Kaiser,
Don't Deny
Patients need access to timely and consistent mental health services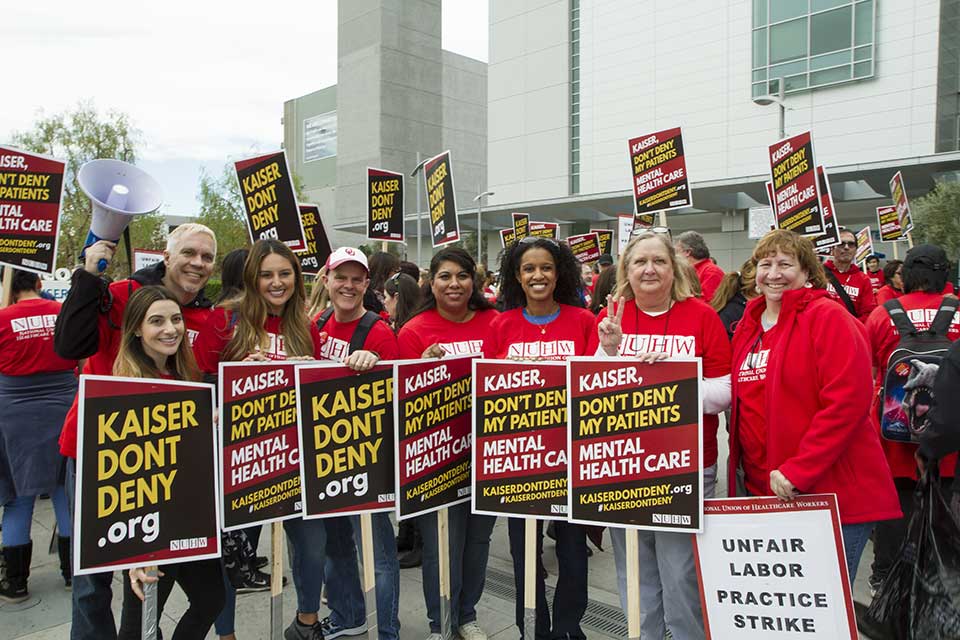 KAISER THERAPISTS ON STRIKE
California Strike Hawai'i Strike
We are more than 2,000 mental health therapists striking for as long as it takes to make Kaiser fully staff its clinics and end dangerously long wait times for therapy. 
Kaiser is breaking California law and violating clinical standards by making patients wait months just to start therapy sessions and four to eight weeks between appointments. It's unethical. It's illegal, and we ask you to support our strike to fundamentally improve access to mental health care at Kaiser.
Here's how you can help — sign our support petition
File a complaint/Don't let Kaiser get away with cancelling appointments:
Even during a strike, Kaiser is still required by law to offer you an appointment within 48 hours (in urgent cases) and 10 business days (in non-urgent cases) unless your therapist determines a longer wait will not not be detrimental to your health.
If Kaiser can't give you an appointment within its own system, it must find and pay for an appointment with an out-of-network clinician.If Kaiser cancels your appointment or fails to offer you an appointment within these legally-required timeframes: File a complaint with California Department of Managed Health Care (DMHC) by phone at 1-888-466-2219 or file a complaint online.
Donate to the NUHW strike fund or a local hardship fund:
You can either donate to the NUHW Strike fund, which will disburse funds to striking mental health clinicians across Northern California and the Central Valley or choose a local financial hardship fund set up by clinicians in your area. Just click the button to agree to the contribution rules for the full list of locations.
Share your story: 
Fill out this short form to let us know if you're interested in talking to journalists or taking other actions to help win this fight. The more patients that speak out, the more pressure Kaiser will face to finally deal with its mental health crisis.
Help spread the word: 
Why are Kaiser psychologists, social workers, therapists and addiction medicine counselors striking?
Mental health clinicians are striking because Kaiser still considers mental health an afterthought compared to its medical services and still delays and denies its members the mental health care for which they are paying and legally entitled to receive.
What have clinicians done up until now to try to improve Kaiser's mental health services?
For the past decade, Kaiser mental health clinicians have done everything in their power to make Kaiser fix its broken mental health care system. They've gone on short-term strikes, filed whistle-blower complaints that resulted in record fines and helped pass new laws aimed at improving access to care. But Kaiser patients are now waiting months just to start therapy and clinicians are leaving in droves because they can't provide the care their patients need to get better.
When and where will the strike take place?
The strike will start on Monday Aug. 15 at clinics across the Bay Area, Sacramento Region and Central Valley as far south as Fresno. Picket line locations: https://nuhw.org/2022-kaiser-strike-dates-and-locations/
What are clinicians trying to win in contract bargaining?
In the first bargaining session more than a year ago, clinicians put forward a comprehensive proposal aimed at requiring Kaiser to increase staffing so patients could be seen more frequently and clinicians would stop leaving Kaiser because they were overwhelmed by their caseloads and demoralized by not being able to see their patients as fast and frequently as they needed. Kaiser rejected that proposal and has rejected every subsequent proposal.
Is Kaiser abiding by California's new law requiring patients to receive therapy within 10 business days?
No. Internal Kaiser documents show that patients who received an initial mental health assessment on June 13 weren't scheduled for follow-up appointments for a month in San Francisco, more than two months in Sacramento and three months or more in other parts of Northern California.
Is Kaiser's mental health services adequately staffed?
No. Kaiser has just 1 full-time equivalent clinician for every 2,600 patients in its Northern California region that includes the Bay Area, Sacramento and most of the Central Valley.
Does Kaiser have a mental health staffing crisis?
Yes. Nearly 20 percent of mental health clinicians have left Kaiser since June of 2021. a survey of more than 200 of the departing clinicians found that:
85% of clinicians said they had an unsustainable workload and/or not enough time to complete the work/caseload assigned to them.

76% of clinicians said that their inability to "treat patients in line with standards of care and medical necessity" was a factor in their decision to leave.
Has Kaiser Permanente delayed or denied your mental health care?
Have you or a loved one been forced to endure long waits for appointments?