NUHW Pulse – September 2017: the latest news from NUHW
NewsSeptember 15, 2017
Welcome to the September 2017 edition of NUHW Pulse, our union's e-newsletter!
Video: Marin County caregivers strike and picket to defend free speech
Caregivers formed picket lines at Brius Healthcare-owned San Rafael Healthcare and Wellness Center and Novato Healthcare Center on August 22 to defend free speech after Brius refused to settle contracts unless workers they took down their watchdog website, BriusWatch.org. Click here to see the video and read the story
Video: Queen caregivers hold vigil for patient care and union recognition
Caregivers and the community gathered for a vigil August 25 in front of Providence St. Joseph's Queen of the Valley Medical Center in Napa to urge management to restore recognition of the union and work with caregivers to improve patient care. Click here to see the video and read the story
Janus of Santa Cruz workers join NUHW
More than 50 treatment technicians, custodians, office assistants, and cooks at Janus of Santa Cruz, a nonprofit drug treatment center, voted overwhelmingly to join NUHW in August to improve patient care, wages, benefits, and working conditions. Read more
Dignity Health Dominican therapists join NUHW
NUHW's rapid growth in Santa Cruz continued when nearly 100 professionals at Dignity Health Dominican Hospital voted to join our union to fight outsourcing and to improve working conditions. Read more
NUHW op-ed: The hypocrisy of Trump's DACA reversal
If Trump really wants economic fairness, it's not DACA he needs to reverse, writes NUHW president Sal Rosselli in an op-ed published in the Huff Post. This op-ed followed a previous column, published in Huff Post and the San Francisco Examiner, in which Rosselli declared President Trump unfit for the presidency in the wake of his equivocation regarding the violence at Charlottesville.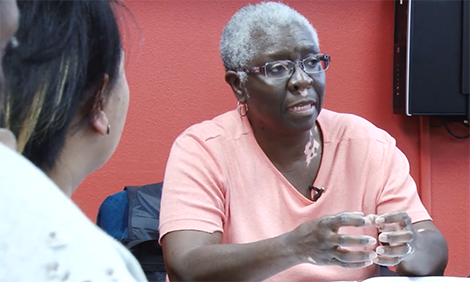 Video: Portrait of an NUHW leader, Ruth Kees
Ruth, a long-time steward at UCSF Benioff Children's Hospital Oakland, talks about her union activism and her commitment to social justice. Click here to see the video
Governor candidates respond to NUHW questionnaire
The four leading Democratic candidates have responded to our questionnaire. NUHW stewards will hear from several of the candidates at our Leadership Conference in October and vote on our union's endorsement.