Community and caregivers stand united at Napa vigil
NewsAugust 28, 2017
As Queen of the Valley Medical Center executives faced charges in a San Francisco courtroom of coercing workers and withdrawing recognition of their union, Napa residents made clear Thursday that they want their community hospital to work with caregivers to improve working conditions and patient care.
About 150 Queen employees, along with their friends and neighbors throughout Napa joined together for a vigil outside the hospital.
Caregivers spoke about their love for the Queen, and their concern that under the leadership of Providence St. Joseph Health and CEO Larry Coomes, the hospital is pocketing big profits while understaffing units and making patients endure dangerously long waits for emergency care.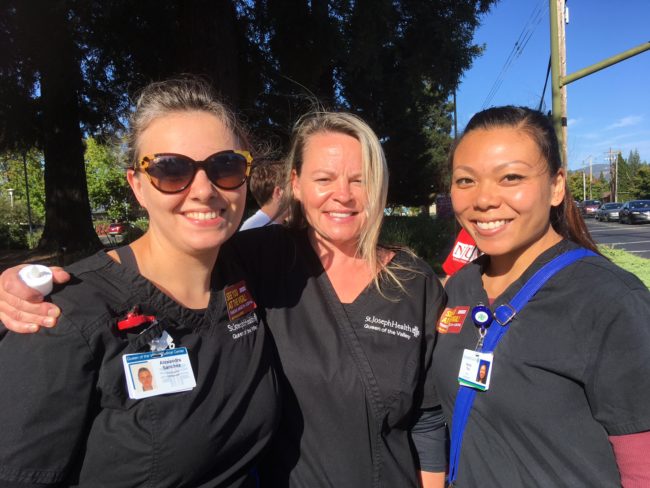 "How many of you have had to wait to be seen in the ER, when you or a loved one was having an emergency?" asked Gabbi Caro, a patient access representative. "Does that make you angry? Because it makes me angry."
Kelly O'Neill, a respiratory therapist, questioned the hospital's staffing levels in light of recent data showing that it netted a $10 million profit last year. Sacrificing patient care in the name of the bottom line goes against everything we stand for, he said.
KPIX5 reported live from the vigil.
Elected officials represented during the proceedings included Rep. Mike Thompson, State Sen. Bill Dodd, Assemblymember Cecilia Aguiar Curry, Napa County Supervisor Alfredo Pedroza and Napa Councilman Scott Sedgley. Also lending their support were North Bay Jobs with Justice, Napa Valley Democrats, the Napa/Solano Central Labor Council, UNITE HERE! Local 2850 and the Napa Valley Educators Association.
"We stand with our siblings at Queen of the Valley Medical Center in demanding our most basic values – being treated with respect and the right to bargain fairly," said Jon Riley, the labor council's executive director.
The National Labor Relations Board filed a complaint in May accusing Queen management of forcibly changing the schedules of several workers to keep them from participating in union activities and threatening to retaliate against others if they supported the union.
The labor board is requesting Judge Sharon Steckler to order the hospital to bargain in good faith and hold meetings to inform workers how their rights were violated. A ruling is expected within the next two months.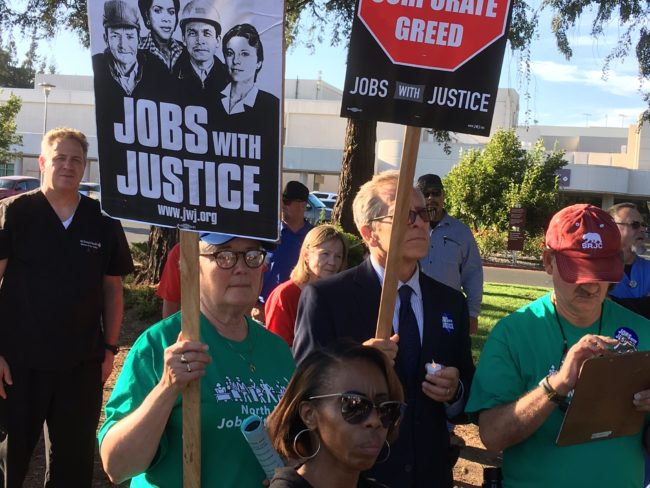 Approximately 420 Queen caregivers voted to form a union last November amid growing concern that Providence St. Joseph Health, the hospital's Washington State-based corporate parent, was shortchanging patient care.
Instead of working with caregivers, Coomes, the hospital's top executive, withdrew recognition of the union and initiated a costly legal fight to overturn the election that the pro-union side won by 20 percentage points.
Coomes wrote that workers were disenfranchised because the labor board conducted the election by mail rather than inside the hospital. This ignores the fact that 90 percent of eligible workers cast ballots and that California is moving toward conducting elections primarily through the mail in order to increase voter turnout.
The hospital has already lost two appeals of the union vote, and is now threatening to sue the federal labor board to overturn the outcome.
During the vigil, Karen McNair, a Queen nurse and member of the Napa County Democratic Central Committee, urged her colleagues not to succumb to the hospital's heavy-handed tactics.
"The bottom line is that working people deserve respect and fair treatment on the job," she said. "Management wants to demoralize you, but you are stronger than they are. We are with you every step of the way – never stop fighting."