Kaiser,
Don't Deny
Patients need access to timely and consistent mental health services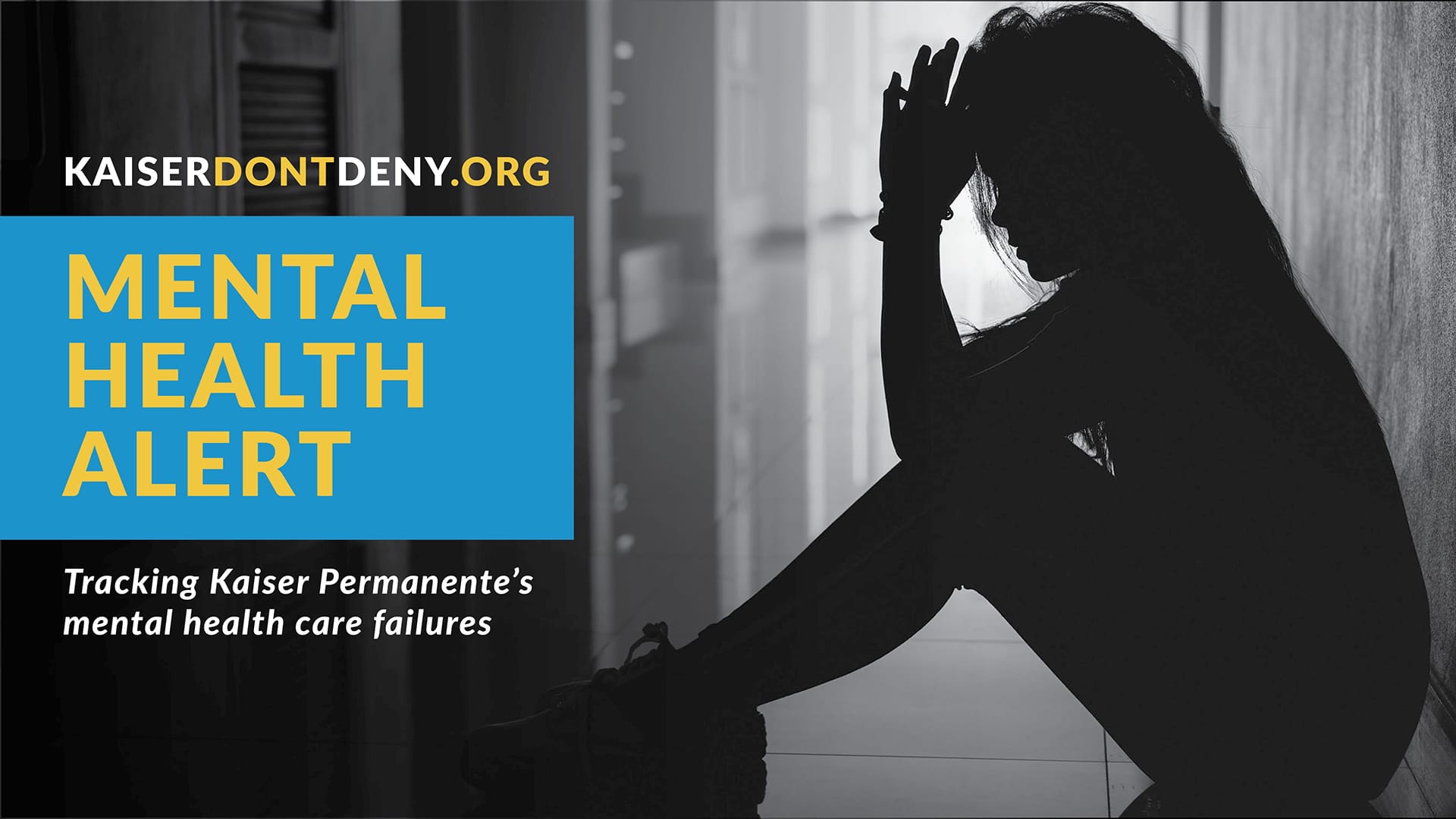 Why do we wait for rock bottom?" A mother chronicles her daughter's struggle with mental illness and their battle to get adequate care from Kaiser Permanente
Published Thursday, August 19, 2021
Jasmin Iolani Hakes wrote a chilling commentary in the Los Angeles Times recently about her 20-year-old daughter's struggle with mental illness and her recent suicide attempt.
Hakes, whose daughter is a Kaiser Permanente member in California, described the agony of not being able to get her daughter the care she needed as she began cutting herself and having panic attacks as she entered puberty.
The cutting worsened. Crippling anxiety and panic attacks that lasted a day or two became the norm. We did what we could with what our healthcare provider offered, but she was stuck in a horrible middle: Not OK enough to be helped much by once-a-week therapy, not an addict fit for rehab. I called every helpline and hotline. Weeks and months and years went by, as we begged for appointments and assessments, and searched for programs that fit.
When Hakes' daughter was 20 years old, her condition worsened and she entered Kaiser's intensive outpatient treatment program. When the program was finished, however, Kaiser failed to provide timely and appropriate follow-up care.
We spent weeks pestering our healthcare provider about getting her assigned to doctors and a group. She had her first follow-up therapy session at the end of month two. We're still waiting for the group therapy to begin.
Her daughter's condition worsened, culminating in her attempt to end her life. As her daughter struggles to address her mental health condition, Hakes makes a poignant case for better access to care.
Why do we make it so hard to find a place for those who are mid-fall, who need more than once a week with a therapist, less than an intervention on the street? Why do we wait for them to hit rock bottom?
Hakes, who didn't disclose the name of her daughter's healthcare provider in her Los Angeles Times commentary, later shared Kaiser's name with NUHW and gave permission to share it publicly.