Kaiser,
Don't Deny
Patients need access to timely and consistent mental health services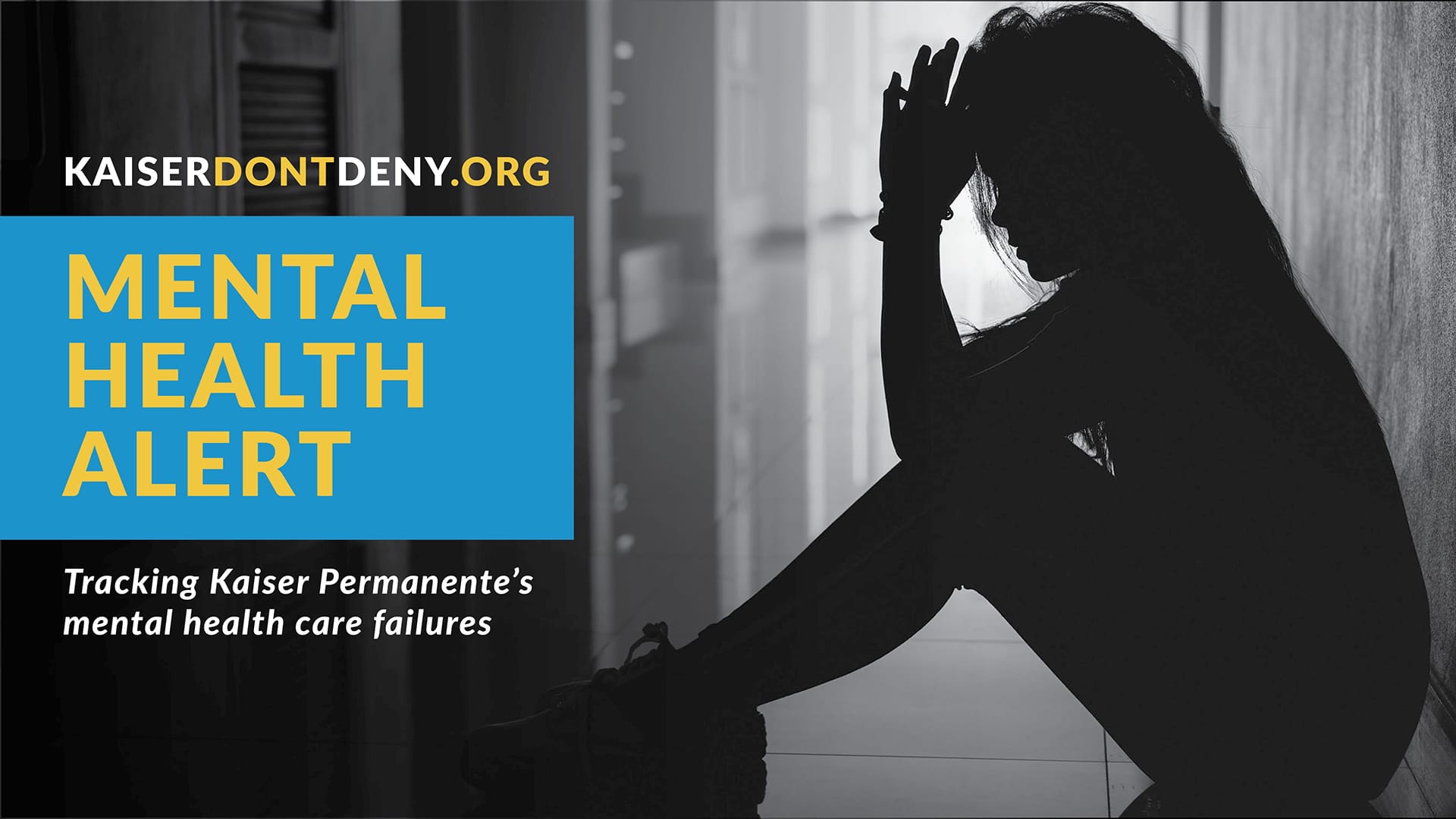 Mental health clinicians tell Kaiser they don't have staff to provide clinically-appropriate care
Published Wednesday, September 1, 2021
Demand for behavioral health care is surging during COVID-19, and the psychologists, therapists and social workers at Kaiser Permanente are warning that their patients are being forced to wait far longer than is clinically appropriate between therapy appointments.
Since November, the clinicians have been writing letters to management spelling out the challenges they face providing timely, appropriate care to their patients, yet Kaiser has failed to address their concerns as wait times continue to grow. Here is an excerpt from a letter to management written by Kaiser mental health clinicians in the Diablo Service Area outside of San Francisco.
"Given the incredible increase we have seen in both demand for services and severity of symptoms in our patients, as well as the exodus of clinicians who can no longer survive in these working conditions, it is currently not possible for us to provide treatment in line with the Standards of Care of our profession. In our respective clinics in Antioch, Pleasanton, and Walnut Creek, our Generalists see patients for an assessment, and this is currently followed by a five to nine week or longer wait until we can provide an individual return appointment. While group treatment, without concurrent individual treatment, is not an appropriate or acceptable level of care for most patients, we are currently experiencing group sizes that are so large and group waitlists that are so long, that we cannot even offer these group services to our patients…"
In response to this letter and others sent from clinicians in different service areas, Kaiser has sent unsigned response letters that offer clinicians no opportunity to continue the conversation.
Not only did Kaiser's response fail to address the concerns raised by clinicians, it repeated Kaiser's distorted claim that more than 90 percent of mental health patients are booked for a new appointment "within the timeframe identified by the treatment plan."
This ignores the fact that Kaiser officials threatened clinicians to stop a concerted effort last year to document when their patients could not receive appointments within an appropriate time interval. In an email on February 12, 2020, a Kaiser manager in Orange County wrote to clinicians:
"Recently there has been a new position taken or encouraged as to how NUHW clinicians document follow-up care that falls outside of the clinical recommendation, and it's my understanding that this documentation is being captured in the patient's medical record."
The email continued:
"Per KP legal, '…our position was (and should remain) that this is inappropriate information for the patient's chart. We should consistently encourage them to escalate any case in which they are unable to schedule a return appointment within the time they believe the patient needs to be seen, and we should make every effort to get the patient in (unless it's clear the request is not warranted, in which case we should be very clear about why the request is not warranted).'"
While the manager asked the clinicians to follow up with him about any patients who needed more immediate care, when appointment wait times already far exceed clinically-appropriate standards, it's impossible for clinicians to expedite care for the vast majority of their patients who need it.