AUGUST 2021 PULSE
PulseAugust 31, 2021

In August, NUHW members won new contracts, volunteered to defeat the recall, furthered their fight to improve access to mental health care, and ratcheted up the fight against a hospital company that is failing to pay its bills or fix equipment.
Please read the stories below, and be sure to follow us on Facebook, Twitter, and Instagram, too.
Note: Photographs of people without masks were taken before the COVID-19 pandemic.
---
Fighting the recall, one call at a time
When an NUHW organizer asked Olivia Aguirre if she would volunteer to defeat the recall of Gov. Gavin Newsom, she offered to start right away — more than two months before ballots had to be returned. Read more.

---
NUHW members ratify contracts at three Tenet hospitals
The contracts include double-digit raises this year for many workers at Fountain Valley Regional Hospital, Los Alamitos Medical Center and Lakewood Medical Center. Read more.
---
Clinicians have new ally in Kaiser mental health struggle
NUHW-represented mental health clinicians at Kaiser held their first video meeting this month with Meiram Bendat, the nation's leading mental health parity attorney. Read more.

---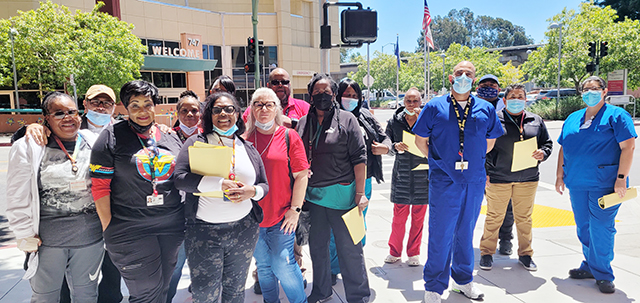 Children's Hospital contract protects jobs, keeps care in Oakland
The one-year contract for two of NUHW's three bargaining units at the hospital will provide raises and security against layoffs. Read more.
---
Members at Kindred Hospital Bay Area settle contract following info picket vote
The contract addresses understaffing issues and includes raises ranging from 7.5 to 9 percent over two years. Read More.
---
Seton workers continue fight to protect patients and safeguard care
Workers marched on the boss, talked to reporters and held a sticker-up this month to demand better from a new owner that is laying off workers while refusing to pay bills or repair medical equipment. Read more.
---
NUHW offering online continuing education courses
Need CE units? Check out our online courses for members in licensed and certified job classifications. Learn more.
---

News of the Month
Read our roundup of the latest labor and healthcare news from top media outlets.