December 2019 Kaiser Strike: Day 5
NewsDecember 20, 2019
We had a strong finish to our strike with lively pickets at nine locations across the state from San Diego to Sacramento. Today's actions came on the heels of a successful march on the Department of Managed Health Care (DMHC) in Sacramento, which was covered by the Sacramento Bee and affiliated newspapers. Our demand that the agency enforce mental health parity laws was also the subject of a story yesterday in CalMatters.
From Thursday in Sacramento:
Those are just two out of hundreds of strike-related news reports produced over the past week, a selection of which can be found here. Our strike has put Kaiser's mental health failures under a microscope and helped us connect with more patients who are ready to go public with their struggles to get timely, adequate care from Kaiser. 
We also demonstrated our resolve to Kaiser executives. They caused this strike by negotiating in bad faith, and now they see just how determined we are to achieve real parity for mental health care and win contracts that treat us with respect and dignity.
Our stewards will be holding a conference call this weekend, and we will give everybody an update next week. 
Here is a round-up of today's pickets:
Downey: We marched through the medical center and psychiatry campus. Two patients stopped by to express their support. We gave them a big cheer. 
From Friday in Downey:
Lancaster: It was 28 degrees outside when we began picketing. Kaiser called in sheriff's deputies to order us to stop writing messages on the sidewalk with chalk. But the deputies told us we were doing nothing wrong and wished us luck. We read passages from stories submitted by patients detailing their struggles to access care.
San Diego: The family of Chloe Roston, a Kaiser patient who died by suicide, returned to the picket line today, as did members of the Inter-Faith Center for Worker Justice of San Diego. Elected officials attending included Assemblywoman Lorena Gonzalez and San Diego Councilmember Kelvin Barrios.
Also in Southern California: Five clinicians were invited to attend a Bernie Sanders rally in Moreno Valley today. After the rally, one clinician asked Sanders if he knew about our fight, he replied, "You bet I do." Sanders declared his support for us and thank the clinicians for attending the rally and standing up for their patients.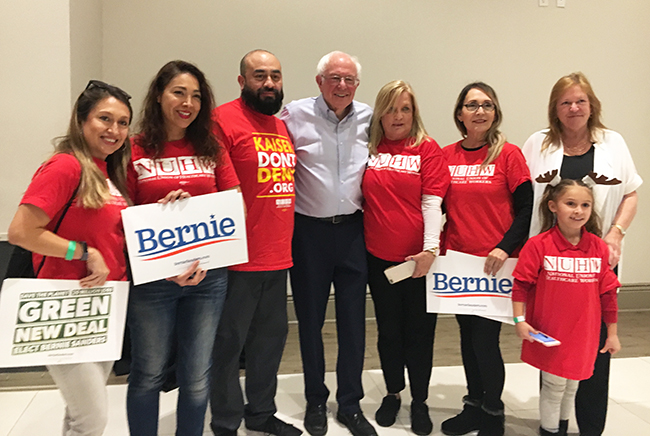 Fresno: We had another great show of local support in Fresno with our picket lines including members from our Optical unit, Stationary Engineers, Local 39, the Communications Workers of America, and the Democratic Socialists of America.
Vacaville: A journalist from the Vacaville Reporter covered the picket. He interviewed several clinicians and a patient who came to the picket line to show solidarity. We were also joined by members of Stationary Engineers, Local 39.
South Sacramento: We were joined by Kaiser workers represented by Stationary Engineers Local 39. We kept UPS from crossing the picket line and received lots of honks from passing motorists.
San Rafael: We picketed in front of the medical center and at two major intersections nearby. At one point a Kaiser representative asked us to quiet the chanting because people were complaining about noise. But that only emboldened us to keep it up. 
San Jose: We were joined by members from our Kaiser Optical unit, Stationary Engineers Local 39, and several patients. We marched through the hospital campus several times and handed out lots of leaflets to patients and passing motorists.
Oakland: We were joined by members of UniteHere Local 2850, Stationary Engineers Local 39 as well as several patients, including members of the California Faculty Association and the California Federation of Teachers. KTVU-2 covered the picket.
See photos and videos below. You can also find more on our social media channels:
Facebook, Twitter, and Instagram.
Click here for the Day 1 report
Click here for the Day 2 report
Click here for the Day 3 report
Click here for the Day 4 report
[slideshow_deploy id='17108′]