December 2019 Kaiser Strike: Day 2
NewsDecember 17, 2019
NUHW members streamed to rallies in Los Angeles and Oakland Tuesday in a powerful show of force to Kaiser. In Oakland, we marched more than a mile down Broadway, closing half of the thoroughfare, as we convened for a rally in front of Kaiser corporate headquarters. 
Meanwhile, hundreds more members, along with patients and community allies, held a spirited  rally outside the Kaiser Los Angeles Medical Center. Ron Herrera, president of the Los Angeles Labor Federation, pledged his organization's support, as did UTLA.
And several labor allies picketed with us today in Fresno, including a representative from the office of State Senator Anna Caballero.
Even Senator Elizabeth Warren joined in, tweeting her support for us.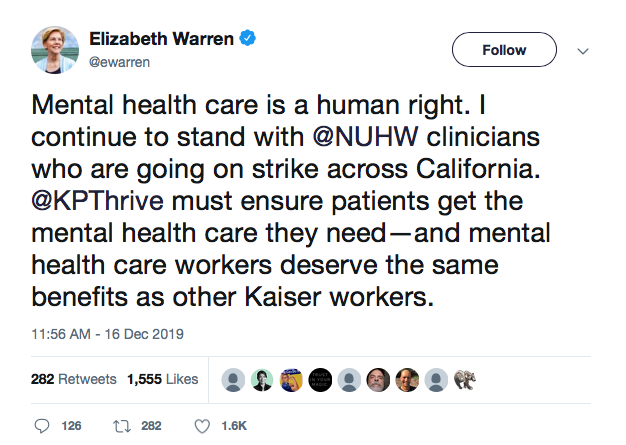 We recorded the Oakland event and the Los Angeles rally on Facebook Live. Click here to see footage from Oakland, and click here to see footage from Los Angeles. See below for photos from today's events, and find more on our social media channels: Facebook, Twitter, and Instagram.
Our power wasn't only evident on our picket lines Tuesday. After NUHW President Sal Rosselli sent a letter to Department of Managed Health Care Director Shelley Rouillard, demanding that her agency monitor whether Kaiser is meeting timely access standards during the strike, the DMHC issued a press release today inviting patients to inform them of any adverse impacts from the strike.
In the release, Rouillard reiterated that the DMHC expects health plans to comply with timely access standards "during any labor strike," and invited anyone who had an appointment inappropriately rescheduled to call its helpline at 1-888-466-2219.
This is a clear message to Kaiser that there is a price to pay for refusing to bargain in good faith and settle a fair contract. If you know of anyone who has had their appointments rescheduled this week, please ask them to call the DMHC hotline.
We had lots of strong community and political support at both of today's rallies. In Oakland, speakers included Assemblymember Buffy Wicks as well as Oakland City Councilmembers Nikki Fortunado Bas and Dan Kalb. Our picket and rally were covered by KTVU and KPFA.
In Los Angeles, speakers included Assemblymember Miguel Santiago, Los Angeles County Assessor Jeff Prague, Los Angeles Labor Federation President Ron Herrera as well as Kaiser patients Haley Pollock and Marie Ann Curtis. We also heard from former San Francisco District Attorney. George Gascon, who is running for the same position in Los Angeles.
We continue to get strong support from Kaiser employees including the Stationary Engineers who are on strike with us. Labor federations that have given us strike sanction include the Orange County Labor Federation, Inland Empire Labor Council, Teamsters Joint Council 42, North Bay Labor Council, San Francisco Central Labor Council.
Let's keep the momentum going on Wednesday. We'll have pickets from 6 a.m. to 2 p.m. at the following locations:
SOUTHERN CALIFORNIA
Riverside Medical Center
10800 Magnolia Avenue
San Diego Medical Center
9455 Clairemont Mesa Boulevard
West Los Angeles Medical Center
6041 Cadillac Drive
NORTHERN CALIFORNIA
San Leandro Medical Center
2500 Merced St.
Roseville Medical Center
1600 Eureka Road
Redwood City Medical Center
1150 Veterans Blvd.
Fresno Medical Center
7300 N. Fresno St.
Santa Rosa Medical Center
401 Bicentennial Way
Vallejo Medical Center
975 Sereno Drive
Walnut Creek Medical Center
1425 S. Main St.
On biggest rallies on Thursday will be at the State Capitol and Kaiser's Southern California headquarters in Pasadena. Please note that busses to Sacramento from Modesto, Stockton and Redwood City and been cancelled.
Click here for the Day 1 report
From Tuesday's Los Angeles picket line:
From Monday's Anaheim picket line:
From Monday's San Francisco picket line:
[slideshow_deploy id='16968′]