December 2019 Kaiser Strike: Day 4
NewsDecember 19, 2019
Hundreds of NUHW members boarded buses to the Capitol Building in Sacramento and Kaiser Southern California headquarters in Pasadena for rallies Thursday that focused on holding Kaiser accountable for its violations of the California Mental Health Parity Act. We also picketed in Fresno.
In Sacramento, we marched with a police escort from the Capitol Building to the Department of Managed Health Care's headquarters (Click here to watch the march and rally).  While most of us protested outside the building, several NUHW members went inside and sought out DMHC Executive Director Shelley Rouillard. 
They found her — and other top officials — at an office holiday party. Our members pressed them to step up enforcement of Kaiser and informed them that the help-line they encouraged Kaiser patients to call this week to report cancelled appointments was difficult to navigate and presented yet another barrier for patients to report problems. 
The officials said they were open to meeting with Kaiser clinicians to better understand access issues, and we intend to make sure that a meeting is arranged. We also intend to make sure they hear from as many patients and clinicians as possible, so we continue to urge you to call the help-line. Click here or on the leaflet for instructions.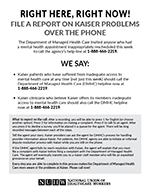 As we rallied outside the DMHC, CalMatters published an excellent story about the agency's lax oversight of Kaiser.
Speakers at the Sacramento rally included clinicians, patients, and labor leaders as well as California Psychological Association CEO Jo Linder-Crow and National Association of Social Workers of California Executive Director Janlee Wong. The action was covered by the Sacramento Bee, KCRA-3 and Telemundo.
In Pasadena we marched through downtown to Kaiser's Southern California headquarters. Kaiser barricaded the main entrance and had Pasadena officials remove our porta potties, but our chants echoed throughout their headquarters.
Several local politicians spoke on our behalf, and we had musical guests Chales Rocha and Claire S. Henry perform protest songs. At the rally's conclusion, we laid several white flowers outside Kaiser headquarters to honor the lives of patients who have died by suicide.
In Fresno, we continue to receive strong community support. We were joined on the picket line by members of our Kaiser Optical bargaining unit, as well as members of SEIU and Stationary Engineers Local 39.
Let's end this strike on a high note that leaves no doubt in Kaiser's mind that it's time to settle a fair contract that puts us on the path toward achieving real parity for mental health care.
We'll have pickets from 6 a.m. to 2 p.m. at the following locations:
Downey Medical Center, 9333 Imperial Highway
Lancaster Medical Center, 43112 15th Street
San Diego Medical Center, 9455 Clairemont Mesa Boulevard
Fresno Medical Center, 7300 N. Fresno Street
Oakland Medical Center, 3600 Broadway
San Jose Medical Center, 250 Hospital Parkway
San Rafael Medical Offices, 1033 Third Street
South Sacramento Medical Center, 6600 Bruceville Road
Vacaville Medical Center, 1 Quality Drive
NUHW President Sal Rosselli speaking at Kaiser's Southern California headquarters in Pasadena
NUHW member Mary Austin, a clinical social worker at Kaiser Fontana, speaks in Pasadena
Scenes from the picket line in Redwood City, including an interview with NUHW member Matt Hanan, psychologist at Kaiser Daly City
See photos and videos below. You can also find more on our social media channels: Facebook, Twitter, and Instagram.
Click here for the Day 1 report
Click here for the Day 2 report
Click here for the Day 3 report
[slideshow_deploy id='17076′]