September 2021 PULSE
PulseSeptember 30, 2021

In September, NUHW members helped defeat the gubernatorial recall, championed mental health parity legislation, took action to advance contract bargaining, and celebrated the gains achieved from a big contract victory. Please read the stories below, and be sure to check out our new training and education website, and follow us on Facebook, Twitter, and Instagram, too.
Note: Photographs of people without masks were taken outdoors and/or before the COVID-19 pandemic.
---

New contract makes "a huge difference"
Read how Christina Rodriguez's life has changed for the better after she and her coworkers at Fountain Valley Regional Hospital won a contract that immediately boosted her pay 31 percent. Read More.
---

NUHW's mental health parity bill awaits governor's signature
SB 221 would requires HMOs and health insurers to provide return mental health and addiction medicine appointments within 10 business days — the same standard for initial assessments. Read more.

---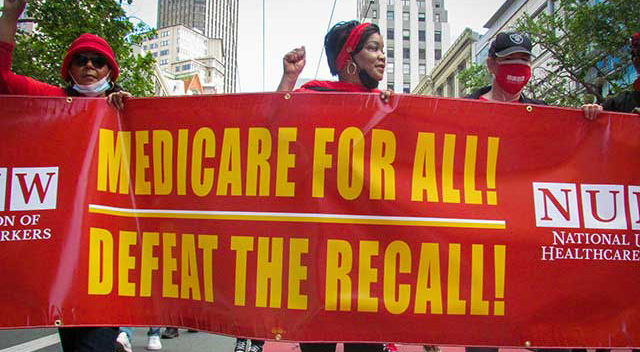 NUHW members helped defeat the recall
After helping deliver Gov. Newsom a decisive victory, NUHW members are focused on advancing healthcare reform in California. Read more.
---

Salinas Valley Memorial members authorize info picket
Workers are fighting to secure a livable wage and squash the hospital's proposal to dramatically increase the cost of their healthcare. Read more.

---

CPMC members and elected officials put pressure on Sutter
Workers at the San Francisco hospitals are leveraging the support of political and community allies in their fight for a fair contract. Read more.
---

NUHW unveils new training and education library
The new library includes a variety of resources and educational opportunities to empower members protect and defend their rights in the workplace. Read more.
---
NUHW offering online continuing education courses
Need CE units? Check out our online courses for members in licensed and certified job classifications. Learn more.
---

News of the Month
Read our roundup of the latest labor and healthcare news from top media outlets.