Don't Call Me A
Hero
Tenet Healthcare workers are being left behind
Tenet profits while workers struggle
Published Thursday, February 25, 2021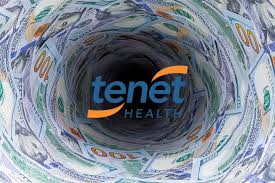 A global pandemic hasn't hurt Tenet Healthcare's bottom line. In releasing its financial results for 2020, the healthcare conglomerate reported a $399 million net profit in 2020.
If Tenet is so profitable, it makes you wonder why it accepted more than $850 million in direct federal stimulus payments along with $1.5 billion in Medicare Advance payments.
Tenet has understaffed its hospitals during the worst of the pandemic, yet its immediate plan for the surplus is to pay off nearly a half-billion in corporate debt.
In talking to inventors, Tenet CEO Ronald Rittenmeyer said, "Our resilience as an organization was tested, and we outperformed, delivered on our commitments and continued building a framework for our future growth and success."
What Tenet hasn't done is staff its hospitals safely, pay all of its workers living wages or follow COVID-19 protocols. If Tenet can make a huge profit during a pandemic, it certainly has enough money to make sure all of its workers are treated fairly and have health insurance for themselves and their families.