Don't Call Me A
Hero
Tenet Healthcare workers are being left behind
NUHW members blow the whistle on Fountain Valley Regional Hospital
Published Monday, September 28, 2020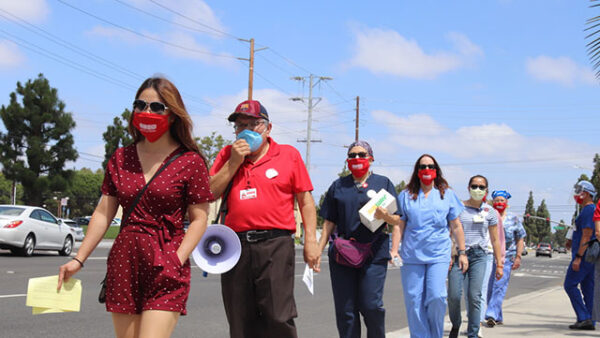 In response to a complaint filed by NUHW, the California Department of Public Health (CDPH) investigated Tenet Healthcare's Fountain Valley Regional Hospital and released a 33-page report that validates the concerns expressed by workers that "systemic" infection control violations at the hospital have placed both caregivers and patients at increased risk for contracting COVID-19.
"We might be carriers, but we don't know if we have it or not because we're not tested," Mila Pham, a secretary on Fountain Valley's COVID-19 unit, told the Los Angeles Times. "We get tested for [tuberculosis] every year — why not COVID-19?" The Voice of OC also reported on the state investigation.
The "Focused Infection Control Survey" was jointly issued with the federal Centers for Medicare & Medicaid Services.
The government investigators, who interviewed workers and managers, reviewed records and visited the hospital, concluded that Fountain Valley "failed to ensure an effective, active hospital-wide infection control program for the prevention, control and investigation of infections and communicable diseases, including COVID-19."
The report found that:
A patient suspected of having COVID-19 was placed on the Oncology unit, which housed immunocompromised patients undergoing chemotherapy.
A COVID-19 positive patient was placed in the OB/GYN unit where pregnant women receive care.
A COVID-19 positive adult patient was placed on the Pediatric Intensive Care Unit, where multiple COVID-19 negative children were receiving care.
Fountain Valley "failed to provide the dedicated nursing staff to the COVID-19 positive patients that required isolation for a highly infectious disease. This failure had the potential to spread this infectious disease to other patients and staff."
When asked by investigators about caregivers treating both COVID-positive and non-COVID patients on the same shift, the hospital's Chief Nursing Officer told investigators that "having the dedicated staffing for COVID-19 and PUIs [persons under investigation for having COVID-19] were not always possible due to staffing shortages and the CDC's guidelines were only suggestions."
According to the report, "The cumulative effects of these systemic problems resulted in the hospital's inability to provide an effective hospital wide infection control program and increased the risk of cross contamination and the spread of infection in the facility."
In response to Fountain Valley's violations of both state and federal standards, the California Department of Public Health ordered the hospital to prepare and implement a "Plan of Correction." The agency will continue to monitor the hospital, likely via follow-up inspections, to ensure its compliance with the plan.
While the hospital has made some improvements in response to the investigation, it still refuses to test all newly admitted patients for COVID-19 and refuses to regularly test all caregivers.