News and views from NUHW: July 17, 2014
NewsJuly 17, 2014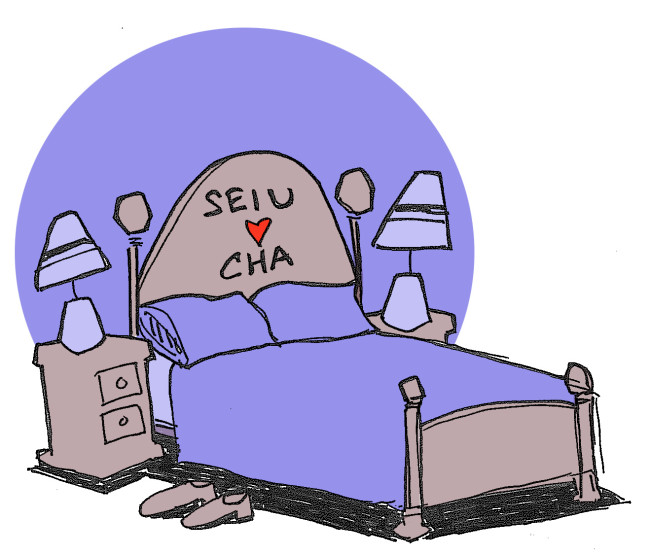 The corrupt SEIU-CHA deal
NUHW is doing its part to expose the corruption that lies at the heart of the deal between SEIU and the California Hospital Association. We have a summary of the deal's shady details on our website, as well as an editorial by NUHW President Sal Rosselli. Recent media coverage of the deal includes SEIU-UHW President Dave Regan's effort to punish those hospitals who he failed to successfully blackmail into signing onto the deal.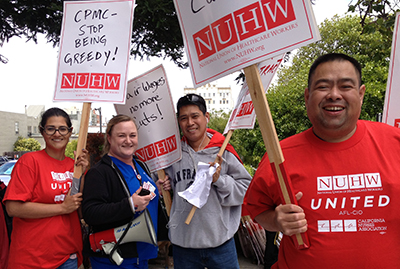 Caregivers picket at California Pacific Medical Center
NUHW members at Sutter Health's California Pacific Medical Center in San Francisco picketed the hospital on July 1 to draw the public's attention to CPMC management's proposal to renege on its previous commitments to the community by cutting twenty-eight skilled nursing beds. CPMC also proposes major cuts in employee benefits. See the video here.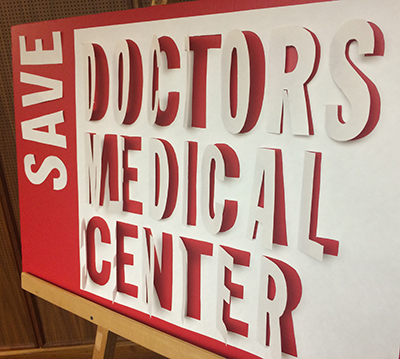 NUHW members fight for Contra Costa County's most vulnerable residents
NUHW members have joined with patients, community members, and members of other unions, including CNA, in an effort to save Doctors Medical Center in San Pablo, an acute-care hospital that provides much needed care to the poor and indigent population of western Contra Costa County. NUHW members are urging the county's Board of Supervisors to find a viable plan to fund the financially troubled public district hospital and incorporate it into the county's public health care system. See the story here and photos here.
Kaiser Permanente's mental health care crisis
In June NUHW sent a letter to U.S. Attorney General Eric Holder calling for a federal investigation into Kaiser's lengthy wait times for appointments and its use of paper waiting lists and falsified records to conceal those illegal delays in care, as well as its retaliation against whistleblowers — circumstances almost identical to the crisis that has engulfed the V.A.
The Santa Rosa Press Democrat followed with a story in June about a local therapist's effort to draw attention to the crisis and a second story about a member of the Sonoma County Board of Supervisors, Shirlee Zane, whose husband took his own life during a 42-day wait between appointments with Kaiser's mental health department. After the stories were published, Supervisor Zane sent an impassioned letter to Kaiser officials vowing to reconsider her approval of Kaiser's contract to provide care to county employees and calling Kaiser to task for its systemic failures in care and for scapegoating NUHW for raising public awareness of the problem. The Press Democrat covered Zane's letter in another story.
NUHW has launched a website, the Kaiser Patient Advocate, as a resource for patients and families who have experienced undue delays or denials of mental health care services from Kaiser.
NUHW leaflets Kaiser CEO's speaking engagement
NUHW members joined with CNA members in leafletting an Oakland Chamber of Commerce awards luncheon where Kaiser CEO Bernard Tyson was a featured speaker. The caregivers called attention to Kaiser's relentless focus on the bottom line as it boosts profits by reducing or denying services. Kaiser recently announced first quarter profits of $1.1 billion. That's a forty percent increase over last year's profits and it puts the HMO on track to nearly double last year's record profits of $2.7 billion.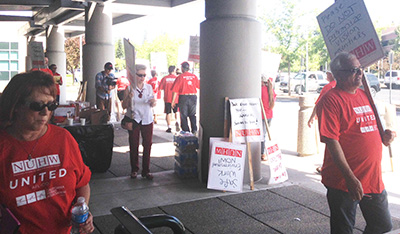 Kaiser workers on strike
Kaiser Optical workers at the Point West facility in Sacramento held a one-day strike to protest poor patient care and abusive management. Kaiser officials called both the Sacramento police and the county sheriff to try to shut down the strike but to no avail. Read the story and see the video here.
Organizing
A supermajority of respiratory therapists at Hazel Hawkins Memorial Hospital (Hollister, San Benito County) signed a petition to strengthen the union in their facility by joining their colleagues in the hospital's service unit as members of NUHW.
Bargaining updates
Workers at three North American nursing facilities in the Sacramento area — Cottonwood Post-Acute Rehab, University Post-Acute Rehab, and Woodland Nursing and Rehab — have ratified second contracts with the employer.
Bargaining is in progress at several NUHW workplaces. Kindred Westminster (Orange County), Santa Rita Jail and Glenn Dyer Detention Center (Alameda County), Visiting Nurses Association of Santa Cruz (Santa Cruz County), and San Rafael Health and Wellness Center (Marin County) are bargaining first contracts. Workers at Kindred Brea (Orange County) and St. Joseph Eureka (Humboldt County) are preparing for first-contract negotiations by filling out bargaining surveys and electing bargaining committees. And workers at Providence Tarzana Medical Center (Los Angeles County), Lakewood Medical Center (Los Angeles County), and Los Alamitos Medical Center (Orange County) are preparing to bargain second contracts.