NUHW members fight for Contra Costa County's most vulnerable residents
NewsJune 14, 2014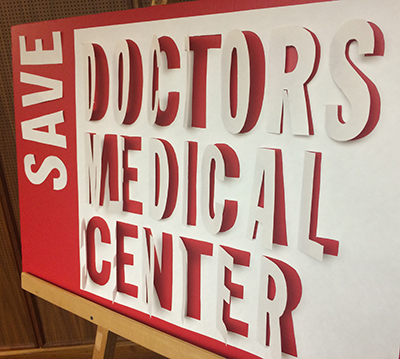 NUHW represents more than three hundred healthcare workers at Doctors Medical Center, a public district hospital in San Pablo that serves the westernmost region of Contra Costa County in the Bay Area. It's a stand-alone, full-service public district hospital that provides acute care and emergency services to a largely poor, indigent population.
DMC has struggled financially for many years because the overwhelming majority of patients who use the hospital are on Medicare and Medi-Cal, both of which provide very low reimbursement rates. As a stand-alone public district hospital Doctor's Medical Center simply cannot generate the revenue it needs. To keep the doors open, West Contra Costa County residents twice supported parcel taxes in recent years. But this year a third parcel tax failed to earn the support of two-thirds of the voters.
As plans developed to close the hospital in July, NUHW, the California Nurses Association, and community members organized to demand that Contra Costa County take responsibility for keeping the hospital open. The May 13 Board of Supervisors meeting was packed with community members, patients, and DMC healthcare workers — members of NUHW, CNA, and other unions — and one by one they approached the podium and spoke passionately about the need to save DMC and ensure that it remains a full-service hospital.
The community told the supervisors that they needed to lead, not throw up their hands in defeat. Closure of Doctors Medical Center would be disastrous, the community said. The loss of a full-service hospital would shift the burden to other area hospitals, resulting in long wait times, inferior care, and potentially deadly consequences for West County residents. The closure of the emergency department would require patients to be transported by ambulance and helicopter to distant facilities, and those emergency rooms would be hard pressed to absorb the influx of patients.
At their next meeting, the supervisors approved funding for a poll to assess voter support for a sales tax measure that would support public safety, fire, health care, and emergency medical services in the county, similar to a half-cent tax in Alameda County that funds a county-wide public health system.
If the polling shows support, four of the five supervisors would have to vote to place such a measure on the November ballot. NUHW members at DMC are working to persuade the supervisors to support the measure.
NUHW members are also working to persuade Chevron to provide an endowment for the hospital. Chevron is a big presence in the area, and its refineries have caused severe health issues for local residents. A 2012 gas fire caused by a burst pipeline at Chevron's Richmond refinery caused thousands of residents to seek medical attention at DMC.
The fight for DMC is a long and uncertain battle, with far more complexity than detailed here. But NUHW members are dedicated to ensuring that West Contra Costa County residents get the medical services they need and retain access to the hospital's vital acute and emergency services.