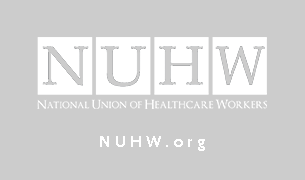 November 22nd, 2009
On Nov. 19, Southern California caregivers met with the National Labor Relations Board in Los Angeles to ask them to stop blocking election for thousands of healthcare workers to join NUHW.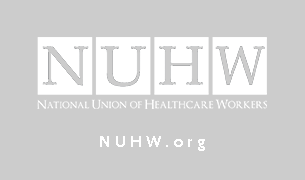 November 19th, 2009
To get to a public forum featuring speakers from the National Union of Healthcare Workers (NUHW) yesterday, attendees in Los Angeles had to pass a demonstration of a few hundred SEIU staffers and members who had arrived on buses.
The SEIUers chanted, beat on drums, and threw eggs and water bottles in an unsuccessful effort to intimidate people from attending. One attendee said SEIU was only making more enemies. For others it recalled SEIU's failed attempt to invade the Labor Notes Conference in Dearborn in April 2008.
Nonetheless, NUHW is gaining allies in Southern California. The forum drew 100 union leaders and rank and filers from at least seven unions and a number of community organizations. It was organized to introduce NUHW to a broader audience, share the story of the union's remarkable breakaway from SEIU and its plans for tremendous growth, and garner both political and financial support for the 10-month-old union.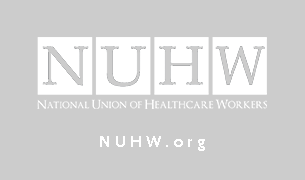 November 19th, 2009
Workers tell how they were threatened and intimidated by SEIU staff who broke the law to tamper with their ballots in this summer's union election. Read more in the Wall Street Journal, the Fresno Bee, and In These Times. And if you haven't signed the Fresno Petition, please do so now.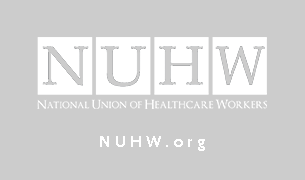 November 17th, 2009
Last night in San Francisco, labor leaders and elected officials from all over the Bay Area gathered to honor our struggle for democracy and celebrate healthcare workers' 75-year history of democracy and member power in California.
Today's Beyond Chron tells the story:
"NUHW's fundraising has grown amidst rising labor movement anger at SEIU, and it now has enough money to fund its current campaigns."
And now other unions are joining our fight at the NLRB to get fair elections to choose our union:
"…[L]abor is increasingly going public with its criticisms of SEIU's tactics. For example, on October 27 the 19,000 member IBEW Local 1245 joined UNITE HERE Local 2 in submitting court papers challenging SEIU's blocking of over eighty NUHW petitions affecting over 27,000 California healthcare workers seeking to choose their union."

"…The increasing willingness of other unions to openly back NUHW … means that SEIU's efforts to frame NUHW as a 'rogue' labor organization guilty of 'raiding' other unions has failed, and that the labor movement now sees NUHW as health care workers' leading voice for democracy.
Elected officials, too, are siding with NUHW. State Senator Mark Leno arrived at the fundraiser with a Senate Certificate of Recognition for NUHW's accomplishments and our 75-year legacy.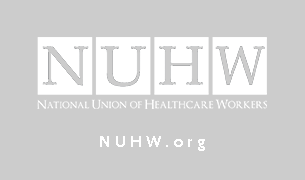 November 17th, 2009
The Service Employees International Union (SEIU) held a boisterous picket line in San Francisco last night, but their chants targeted a surprising adversary: labor leaders and their political allies. While California Democratic Party Chair John Burton (labor's greatest California ally), State Senator Mark Leno and leaders of UNITE HERE, the Sailors, Plumbers, Building Trades, and Police and Fire unions, were inside the Plumbers Union Hall honoring the National Union of Healthcare Workers (NUHW), SEIU was outside denouncing NUHW – and by implication its supporters – as corrupt. Last week, SEIU informed Burton that it would end its $1 million annual donation to the state Party unless he withdrew his support for NUHW, which he refused to do.
SEIU's threat to labor hero Burton, and its reported statement to the United Teachers of Los Angeles (sponsor of tonight's NUHW fundraiser) that it would seek to organize charter school teachers in retaliation for UTLA's pro-NUHW stance, reflects a union increasingly at odds with the labor movement.