January 2022 PULSE
PulseJanuary 28, 2022
In January, NUHW members won new contracts with big wage increases, picketed in protest of severe understaffing, held a one-day strike to demand Kaiser take action to support patients of color, advocated for the creation of a Medicare for All healthcare system, and welcomed more than 200 new members who voted to join our union.
Check out the stories below, and be sure to visit our new training and education website, and follow us on Facebook, Twitter, and Instagram, too. Wishing everyone Happy Holidays and a happy and healthy 2022.
Note: Photographs of people without masks were taken outdoors and/or before the COVID-19 pandemic.
---
Oakland City Council passes resolution to keep care at UCSF Children's Hospital Oakland
The resolution calling on UCSF to "correct inequalities" in health care delivery between San Francisco and Oakland came one month afer NUHW members raised concerns that the university was moving services out of the East Bay to San Francisco. Read more.
---
Kaiser mental health therapists strike for racial justice on MLK Day
Refusing to let Kaiser pay lip service to racial justice, mental health clinicians at Kaiser Permanente's Richmond and Oakland offices held a one-day strike on Martin Luther King Jr. Day. Read more.
---
NUHW members win big raises at West Anaheim Medical Center
West Anaheim agreed to the deal after workers scheduled a four-day strike. Read more.
---
Seton workers force concessions after strike authorization
Workers at two Seton facilities refused to budge on a planned strike until winning bigger raises. Read more.
---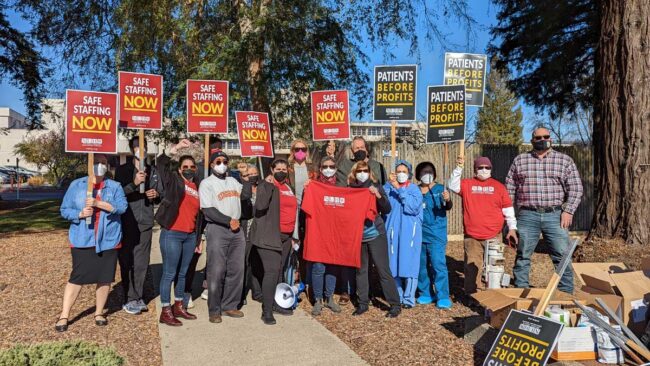 NUHW members in Napa protest dangerous staffing shortages
After imposing layoffs last year, Queen of the Valley Medical Center doesn't have enough caregivers to staff a dedicated COVID unit and is making patients wait days in the ER before being admitted to the hospital. Read more.
---
NUHW wins two more organizing elections
Workers at Sutter Care at Home and USC Keck Medical Center's Cardiothoracic, Cardio, and Bio-Med units voted overwhelmingly this month to join NUHW. Read more.

---
NUHW co-hosts Latinx Medicare for All town hall with Dolores Huerta
With momentum building statewide for Medicare for All, participants discussed how a single payer healthcare system would benefit Latinx and immigrant communities. Read more.
---
Laura Nakamura is seeking to take her leadership skills to public office
Nakamura, an NUHW steward at Children's Hospital Oakland, is running for City Council in the Bay Area city of Concord. Read more.
---
NUHW offering online continuing education courses
Need CE units? Check out our online courses for members in licensed and certified job classifications. Learn more.
---
News of the Month
Read our roundup of the latest labor and healthcare news from top media outlets.