Don't Call Me A
Hero
Tenet Healthcare workers are being left behind
Fountain Valley workers force Tenet to implement COVID-19 safeguards
Published Thursday, August 27, 2020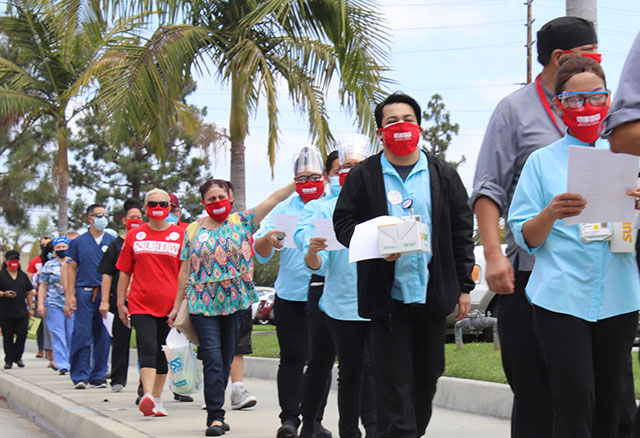 At the outset of the COVID-19 pandemic, Tenet Healthcare's Fountain Valley Regional Hospital was not doing nearly enough to protect the health of its workers and patients. The hospital lacked sufficient PPE, placed COVID-19 patients alongside non-COVID patients and refused to test both workers and all patients upon admission.
Tenet is a Fortune 500 company with more than $2 billion in cash reserves. Workers demanded more from Tenet and through their actions, including two public protests, they have forced the hospital to make concessions.
In advance of their first protest last month over the hospital's substandard safety procedures, workers filed a complaint with the California Department of Public Health. The agency found so many issues that they received approval from the federal Centers for Medicare & Medicaid Services to launch a much broader survey of the entire hospital. This larger survey included a seven-day visit by four agency surveyors and a doctor.
Although the findings have not been released, the hospital has already begun to isolate COVID-19 patients, several of whom had been previously placed in the same unit as cancer patients.
Now, workers are pushing for the hospital to test all newly admitted patients and provide them with regular COVID-19 testing. Their second protest, held on Aug. 6,  was covered by the Los Angeles Times, Orange County Register and Becker's Hospital Review.
Our members were also joined by about 20 nurses, including Jennifer Carter, who told the Los Angeles Times: "There's a lot of fear — of getting COVID-19, bringing it home to family, giving it to patients. Every patient who comes into the emergency room should be tested. If they leave our ER, but they're asymptomatic, they're going to go out and spread it."
Following the second protest, NBC News did a national story about Fountain Valley, quoting Mailinh Nguyen, a nursing assistant, who was denied a COVID-19 test even after she worked two shifts caring for a patient who later tested positive for the Coronavirus.