Top Kaiser Permanente official resigns amid conflict-of-interest scandal
KaiserFebruary 27, 2014
In the wake of two conflict-of-interest scandals and NUHW's call for her resignation, Dr. Christine Cassel stepped down from Kaiser Permanente's board of directors Wednesday.
A February 12 investigative report by ProPublica, based on research and documents first uncovered by NUHW, revealed that Cassel is encumbered by significant conflicts of interest. Cassel is the CEO of the National Quality Forum in Washington D.C., whose recommendations are adopted by thousands of hospitals across the nation. Yet she also held lucrative positions on the boards of large healthcare corporations with a stake in the National Quality Forum's policies and recommendations.
Since 2003, Christine Cassel has pocketed more than $1.5 million of Kaiser's money. Last year she brought in $203,000 for attending six board meetings, and in 2011, Kaiser paid Cassel at a rate of more than $1,400 an hour, according to tax records. All of this comes on top of Cassel's salary at the National Quality Forum, where she earns $561,000 a year.
NUHW called for Cassel's resignation February 20. For five years NUHW members have been holding Kaiser accountable to its patients and workers, insisting that Kaiser provide quality care for patients and good jobs for caregivers. As part of our efforts, we demand that Kaiser's board of directors be free of conflicts of interest and other ethical violations that undermine its responsibility to meet the needs of patients and workers.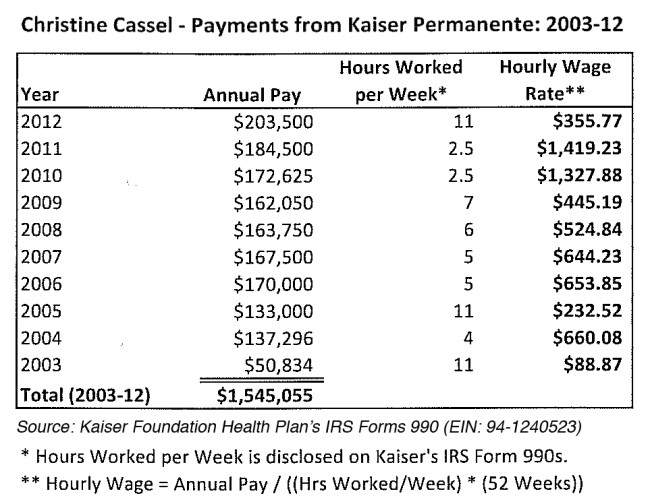 National ethics experts told ProPublica that Cassel's ethical breaches are "absolutely egregious" and that the cleanest way for her to eliminate these conflicts would be to resign from the boards of Kaiser Permanente and Premier Inc., which provides purchasing and performance-improvement consulting for thousands of hospitals and nursing facilities.
On Wednesday she resigned from both.
This is a victory for patients and caregivers and a victory for transparency in the top echelons of the healthcare industry. The National Quality Forum plays a huge role in our hospitals by defining the 'best practices' that our caregivers use. Healthcare workers and patients need to be certain that money from giant HMOs like Kaiser isn't corrupting NQF's decision-making process.
NUHW applauds Cassel's decision to resign as a positive step toward restoring the National Quality Forum's integrity.
NUHW blog post on Cassel
NUHW calls for Kaiser board member's resignation
Media links
Los Angeles Times: Kaiser Permanente Board Member Quits Amid Questions Over Conflicts
Pro Publica: Citing Distraction, Quality Forum CEO Resigns Board Seats
Modern Healthcare: National Quality Forum CEO Cassel Cutting Ties to Kaiser, Premier
Pro Publica: Payments to CEO Raise New Conflicts at Top Health Quality Group
Pro Publica: Senator Cites 'Serious Concerns,' Demands National Quality Forum Records
Pro Publica: Hidden Financial Ties Rattle Top Health Quality Group
San Francisco Business Times: Kaiser Permanente board member under fire for perceived conflicts of interest
Documents
Kaiser Foundation Health Plan IRS Form 990
Senator Grassley's letter