NUHW's Kaiser mental health clinicians to be honored with United in Courage Award
KaiserApril 18, 2016
NUHW's Kaiser Permanente mental health clinicians — psychologists, psychiatric social workers, therapists, and psychiatric nurses working at hundreds of Kaiser clinics throughout California — will be honored with Courage Campaign's United in Courage Award for the tremendous courage they've demonstrated over the past five years, particularly but especially in 2015.
The awards dinner will be held at 5:30 p.m. Tuesday, May 10, at the Citizen Hotel, 926 J Street, Sacramento.
To RSVP, click here to download the invitation. RSVPs need to be mailed in by May 1. Tickets are $250. If you cannot attend, click here to make a donation to Courage Campaign.
Courage Campaign is an online advocacy organization with more than a million members. Courage has been a strong ally and supporter of NUHW since our founding and supported our Kaiser mental health clinicians throughout this fight.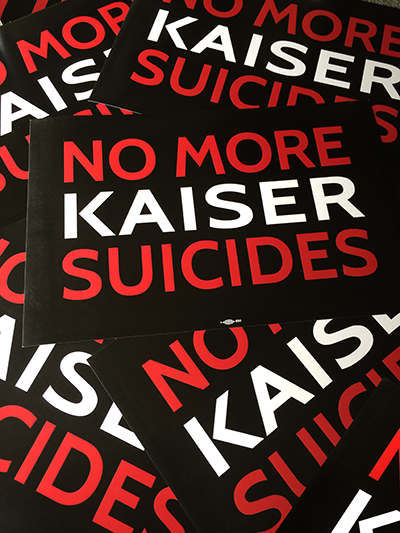 The NUHW Kaiser clinicians started 2015 with a week-long, statewide strike that generated vast press coverage and brought much-needed attention to Kaiser's systemic neglect of mental health patients and its failure to comply with state and federal mental health parity laws. Clinicians did countless interviews with local, state, national and international media; put up scores of picket lines across the state; formed alliances with advocacy groups, Kaiser patients, and families of Kaiser patients who committed suicide; educated and rallied the public through earned media, op-eds, petitions, leafleting, web videos, and advertising and social media campaigns; and pressured state regulators to take action, resulting in the February 2015 release of a damning report on Kaiser's mental health services by the Department of Managed Health Care.
NUHW clinicians sacrificed regular wage increases and the security of a contract for five years, never wavering amid Kaiser's attacks on their motivations, credibility, clinical judgment, or professional ethics. More than three thousand clinicians stood united in challenging Kaiser's misinformation and advocating for a model of care that honors patients' rights by enabling clinicians to provide timely, appropriate care.
The result: Kaiser was forced to hire five hundred additional clinicians in 2015, and in December, clinicians won a contract that includes an unprecedented appointment-scheduling ratio (four returning patients for every new patient) to guarantee regular, ongoing treatment for patients who need it, as well as a trigger mechanism that requires Kaiser to hire more clinicians should Kaiser fail to achieve that ratio.