Kaiser mental health clinicians protest retaliation against whistleblowers
KaiserMay 18, 2015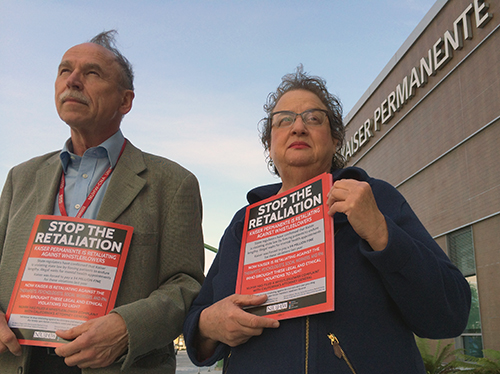 Kaiser mental health clinicians picketed and leafleted at Kaiser facilities throughout California May 11–15 to protest the HMO's retaliation against whistleblowers who have brought public attention to Kaiser's pattern of unlawful delays in providing mental health care.
Clinicians demanded that Kaiser reinstate wrongfully terminated Fremont psychologist Dr. Alex Wang, who had been targeted by Kaiser since 2013 when he wrote "Patient should be seen sooner" on a patient's chart after he learned that the patient would wait more than three weeks for a first-time appointment. Kaiser disciplined Wang on the basis that the note was "political speech," and for the next two years needlessly scrutinized Wang's work and questioned his clinical judgment.
Many news outlets covered the week's informational pickets and leafleting, including the San Francisco Examiner, Courthouse News Service, SF Weekly (San Francisco), the Marin Independent Journal, OC Weekly (Orange County), the Huffington Post, KTVU TV (San Francisco), KALW (San Francisco), KPFA Radio (Berkeley), the Riverside Press-Enterprise, and the Los Angeles News Group.
Dr. Wang told Courthouse News Service that clinicians are usually fired in cases of gross negligence, ethical violations, or if their treatment leads to bad outcomes — a patient's death, for example — but he said his record contains no such blots.
"Essentially, my case is not that unusual from what's happening to other stewards and staff who are speaking out in terms of access issues," Wang said. "Management has been looking for reasons to fire or harass people that speak out about patient care."
Dr. Wang said that although his firing has naturally affected him personally, it has most significantly affected his patients.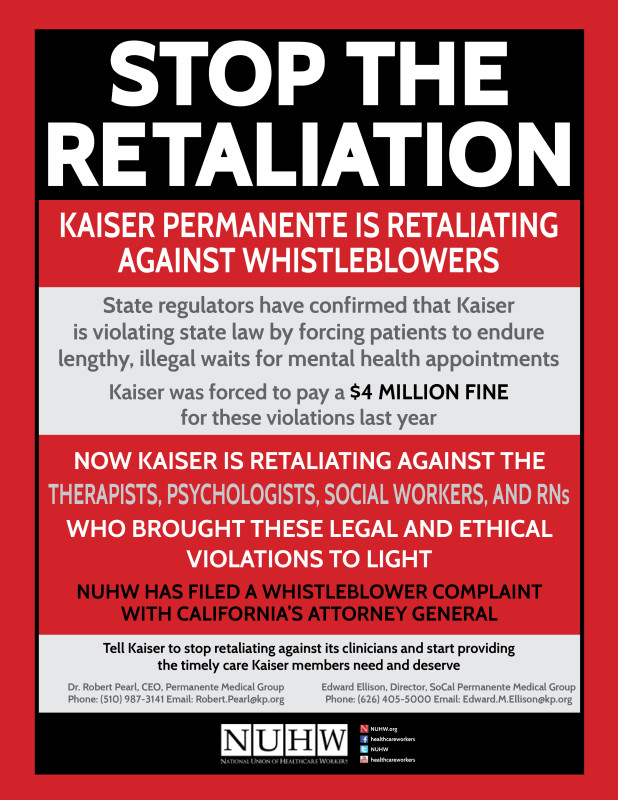 "My patients are really the ones who have borne the brunt of all this," Wang said. "They've been kept in the dark. They're trying to make appointments and they can't. I don't know if they even know that I've been fired."
"The firing of Dr. Wang is like a punch to the face,"  Dr. Andris Skuja, a psychologist at Kaiser's Oakland Medical Center, told SF Weekly. "This multibillion-dollar corporation has pounced on a thoughtful, dedicated therapist because he dared to stand up for patients who needed help. Kaiser managers and executives are scapegoating caregivers for management's casual disregard of the well-being of Kaiser patients. It's a calculated move designed to silence caregivers. What kind of care will Kaiser members get if their care providers are too scared to report violations? These delays and denials of care can have tragic consequences. Some patients have committed suicide while facing long waits for therapy appointments."
"Kaiser has lost its ethical compass," Dr. Skuja told Courthouse News Service. "They're violating professional ethics and their own compliance and retaliation policies," Dr. Skuja said. "That's kind of evidence of a basic ethical failure, an organizational and institutional ethical failure."
This failure is all the more troubling in light of Kaiser's recent significant profits: more than $15.5 billion since 2009.
California's Department of Managed Health Care fined Kaiser $4 million in 2013 for delaying appointment times for mental-health patients, understaffing its psychiatry departments, and falsifying patients' appointment records to conceal the long wait times. Kaiser clinicians have been dealing with retaliatory practices since they began reporting problems to Kaiser management several years ago.
"There's not so much as a hint of a shadow on our work record, but the second we get vocal about patient care we come under scrutiny," said Clement Papazian, a licensed clinical social worker at Kaiser Oakland, told Courthouse News.
Clinicians are also fed up with Kaiser's "contrast between the rhetoric and the action that's being mounted against them," Papazian said. "On the one hand, we're being told that we're valued employees. On the other, we feel like we're being punished by the organization for bringing to their attention something they should have dealt with years ago."
"We have worked without a contract for three years while Kaiser has fought us tooth-and-nail on these patient care issues," Papazian told the San Francisco Examiner. "By refusing to address our concerns through internal channels, they pushed us into the role of whistleblowers. Now they want to punish us for going public.
Kaiser's deficiencies are especially tragic because the HMO is positioned to be a leader in the country on the issue, Skuja said. "They get a lot of things right.  But not in mental health. We are determined to call them out on that."
"Not a day passes that Kaiser doesn't come out with some kind of document or award that says they're leaders or stellar care providers," Papazian said. "The hypocrisy of that is so staggering from our perspective."
"We shouldn't be understaffed," Kaiser Marriage & Family therapist Dan Arvesen told OC Weekly. "We shouldn't be unable to  provide certain services according to legal and ethical treatment guidelines. Dr. Wang is an individual example of the retaliatory efforts that Kaiser is engaging in."
"It's been disillusioning,"Marriage & Family therapist Vicki Hoskins told OC Weekly. "Kaiser used to be the employer of choice. [Kaiser has not agreed] to some of the things that are really important to us, like having a committee where management and staff work together to decide what's best for mental health patients," Hoskins said. "We're still hoping that Kaiser will bring something tangible and equitable to the table."