Hawai'i Therapists Protest Kaiser Permanente Shortchanging Both Therapists and Hawai'i Patients
Press ReleasesOctober 31, 2022
Kaiser recently agreed to improvements in patient care and compensation for therapists on the mainland, but insists on paying therapists in Hawai'i far less and refuses to boost service for patients in need.
HONOLULU — Striking mental health therapists joined by community leaders will protest Mon. Oct. 31, at 11 a.m., outside Kaiser Permanente's corporate offices in Honolulu to demand that the HMO provide equal treatment for its therapists and patients in Hawai'i.
Last week, the giant HMO reached an agreement with mental health therapists in Northern California that included significant improvements for therapists and the patients they serve. In stark contrast, Kaiser has dug in its heels in Hawai'i, refusing to address its understaffing crisis and has made matters worse by insisting that its therapists in Hawai'i also accept far lower wages and poorer benefits than their counterparts in Northern California — despite a higher cost of living and a heavy caseload for each therapist.
The strike by therapists in Hawai'i, which began Aug. 29, is now entering its third month. Kaiser's 57 psychologists, social workers, chemical dependency counselors and psychiatric nurses serve 266,000 Kaiser members in Hawai'i — a ratio of 1 therapist for every 4,600 Kaiser members. In comparison, in Northern California, the ratio is 1 therapist for every 2,300 Kaiser members. Staffing levels have not improved in Hawai'i because therapists are leaving faster than Kaiser can replace them.
Mental health workers in Hawai'i, represented by the National Union of Healthcare Workers, are demanding a contract that addresses severe understaffing that leaves patients in Hawai'i waiting months for therapy sessions in violation of clinical standards and state law. Kaiser canceled a bargaining session in Hawai'i that was scheduled for Tues. Oct. 25 and is refusing to resume negotiations until Nov. 8. Improvements in patient care and compensation for therapists in Northern California were only agreed to after a 10-week strike by NUHW members ended earlier this month.
"Kaiser is not treating Hawai'i on par with California, and that is not OK," said Andrea Kumura, a licensed clinical social worker at Kaiser's Waipio Clinic. "We haven't asked for everything Kaiser now provides in Northern California. What we're asking for is modest and affordable. Kaiser simply refuses to provide adequate mental health care in Hawai'i and doesn't want to change. They want to shortchange the people of Hawai'i."
WHO: Striking Kaiser mental health therapists and community allies.
WHAT: Picket line and news conference outside Kaiser's corporate offices to demand that Kaiser settle the strike in Hawai'i on similar terms as agreed to in Northern Calif.
WHEN: 11 a.m. picket line, speakers begin at 11:15 a.m.
WHERE: Kaiser Permanente Health Plan Offices, Pacific Park Plaza, 711 Kapiolani Blvd.
Second-class status for Hawai'i
Earlier this year, the National Committee for Quality Assurance downgraded Kaiser's accreditation status in Hawai'i placing it under "corrective action" for deficiencies in providing accessible mental health care. The agency concluded that the lack of access to mental health care posed "a potential patient safety risk" and that "Kaiser's prior efforts to improve access… have largely been ineffective." Currently, Kaiser is the only health plan in Hawai'i under corrective action.
In responding to its accreditation agency, Kaiser officials listed "lack of available candidates… to fill internal vacancies," as its biggest challenge. However, even though Hawai'i has a higher cost of living than California, the HMO is insisting on paying most therapists in California at least 20 percent more in starting salaries than their counterparts in Hawai'i and even more to stay with Kaiser long term.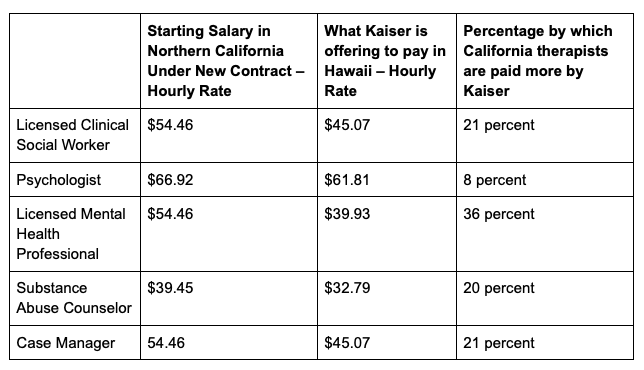 The wage discrepancy is even higher than it appears. In Northern California, Kaiser has agreed to a wage scale with guaranteed raises every year, while in Hawai'i, Kaiser is insisting on a single starting wage rate with no guarantees of raises as therapists gain more experience.
After five years at Kaiser, psychologists in Northern California would be guaranteed at least $74.74 per hour compared to $61.81 per hour in Hawaii, and social workers would be guaranteed at least $60.82 per hour in California compared to $45.07 per hour in Hawaii.
There are other major differences in what Kaiser has agreed to in Northern California and what it's offering in Hawai'i that will affect the HMO's ability to recruit and retain therapists.
In Northern California, Kaiser agreed to across-the-board raises for all therapists, but in Hawai'i, Kaiser's proposal would amount to a wage freeze for a majority of therapists.

In Hawai'i, Kaiser is insisting on eliminating pensions for newly-hired therapists, but it never proposed eliminating the pension in Northern California.

In Hawai'i, Kaiser is proposing to give newly-hired therapists 15 days of vacation and sick time vs 19 days that it agreed to give the same workers in Northern California.
Patient Care Disparities
Kaiser also agreed to implement direct patient care improvements in Northern California that it has refused to consider in Hawaii. In Northern California, the new contract includes:
Nearly seven hours per week for therapists to perform essential patient care duties such as responding to patient emails and voicemails, tailor treatment plans, chart appointments and communicate with social service agencies. In Hawaii, therapists only get five hours per week for these tasks.
A commitment from Kaiser to expand crisis services to nearly every clinic in Northern California. In comparison, the only crisis services Kaiser offers in Hawai'i other than at its main hospital on Oahu is a Call Center that has been so understaffed patients routinely wait on hold for up to an hour.
A commitment by Kaiser to implement and fund recommendations from labor-management Model of Care Committees, one of which will be focused on increasing staff. However, in Hawai'i, Kaiser has refused to make any contractual commitment to increasing staff, and rejected a proposal from therapists to increase hiring bonuses if Kaiser's hiring targets aren't met.
"Everyone should be outraged by Kaiser's second class treatment of its Hawai'i mental health therapists and patients," State Sen. Laura Acasio said. "Hawai'i is an afterthought to Kaiser, and the only way to change that is to support our striking therapists and demand equal treatment."
# # #
The National Union of Healthcare Workers represents more than 16,000 healthcare workers in California and Hawaii, including 58 Kaiser mental health providers who provide treatment to 266,000 Kaiser enrollees at seven medical facilities and a call center on Oahu, Maui, and the Big Island.