NUHW members rally in support of Dreamers
Children's Hospital OaklandFebruary 16, 2018
About 30 NUHW members participated in a Feb. 6 rally outside their Oakland hospital supporting undocumented immigrants brought to the United States as children.
With Congress again facing pressure to restore protections for young immigrants known as Dreamers, staffers and doctors at UCSF Benioff Children's Hospital Oakland called for a bill that protects them from deportation without also providing billions of dollars to build a wall across the U.S. Mexico border.
NUHW was one of the nation's first labor organizations to declare itself a Sanctuary Union and guarantee that it would protect members facing deportation no differently than members being singled out for punishment by their employers.
"I am so proud to be part of an organization that supports the Dreamers and values all people no matter where they were born, said Cecilia Morales, a hospital office coordinator and NUHW member, who participated in the rally.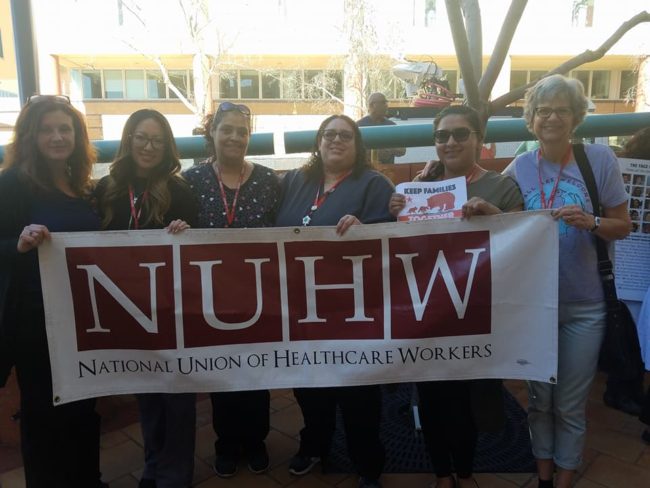 The rally took place amid reports that undocumented families aren't seeking vital medical treatment because they fear deportation. Although federal policy instructs immigration agents against making arrests at "sensitive locations, including hospitals, schools and churches, there are exceptions for when other law enforcement actions have led agents to the sensitive location, according to KQED.
Hospital administrators told the radio station that they have started formulating protocols so staff members know what to do if immigration agents enter the hospital. Several demonstrators held signs with a message to undocumented immigrants stating "You Are Welcome Here."
"It is heartbreaking to hear that families are so afraid of federal immigration raids that they would think twice before seeking medical treatment," Morales said. "It's time for Congress to pass an immigration bill that keeps families together instead of tearing them apart."