With "Thrive City," Kaiser puts branding before behavioral health care
NewsJune 28, 2019
This article was published in Medium on June 27, 2019
By Sal Rosselli
As our state's largest nonprofit HMO, Kaiser Permanente is tax-exempt, and has a duty to reinvest its enormous income into caring for its nearly 9 million patients in California. But last week, Kaiser executives proved beyond a doubt that they put branding before behavioral health care.
In the same week that Kaiser announced it was building a new $900 million Oakland headquarters that it doesn't need, news broke that the nonprofit HMO is paying the Golden State Warriors up to $295 million to brand the mixed-use complex surrounding the team's new San Francisco arena "Thrive City" along with other sponsorship rights.
That's nearly as much as the $300 million that Chase is paying to put its name on the arena, more than Levi's paid to brand the 49ers stadium, and more than double what Staples paid to brand the arena where the Los Angeles Lakers play. Click here to see the resolution passed by the Finance Committee of Kaiser's Board of Directors to approve the mammoth expenditure.
It's unprecedented — and completely inappropriate — for a nonprofit healthcare provider to spend that kind of money for sports complex naming rights, and Kaiser mental health clinicians, represented by the National Union of Healthcare workers, wasted no time questioning why Kaiser was paying so much to the Warriors when their facilities are understaffed and their patients can't get timely care.
"My patients aren't thriving," Mickey Fitzpatrick, a psychologist at Kaiser Oakland, told KRON-4 News. "I have patients that are acutely suicidal, and I have to sit there and apologize to them every session and say 'I'm sorry but I can't see you again for another six weeks,'" Fitzpatrick said.
Kaiser patients also want the HMO to get its priorities straight. Seong Brown, whose teenage daughter Elizabeth died by suicide last year after struggling to get timely therapy appointments, said that Kaiser executives "should be ashamed of themselves" for "Thrive City."
"I want every one of my premium dollars to go toward improving patient care so other families don't have to suffer like mine," Seong said. "Kaiser should rescind this deal and spend every bit as much to provide immediate relief for understaffing and address its mental health crisis."
If Kaiser executives were truly interested in providing community benefits rather than burnishing their public image and boosting their bottom line, they would have asked patients, employees, and community members how to provide more and better care, and how that $300 million could have been better spent.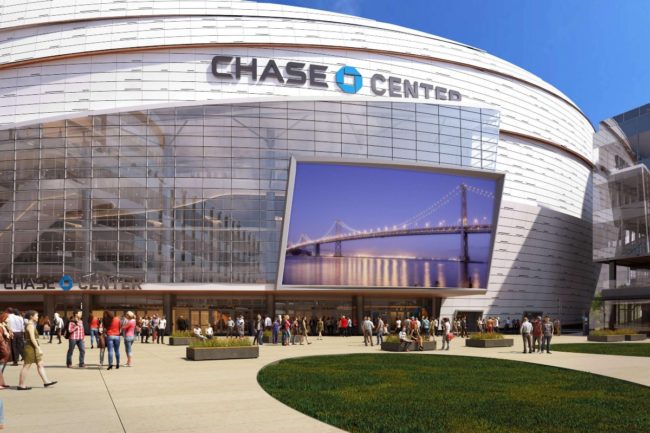 Artist rendering of the Chase Center, the new home of the Golden State Warriors, and what the 11-acre area "Thrive City" will sourrouned.