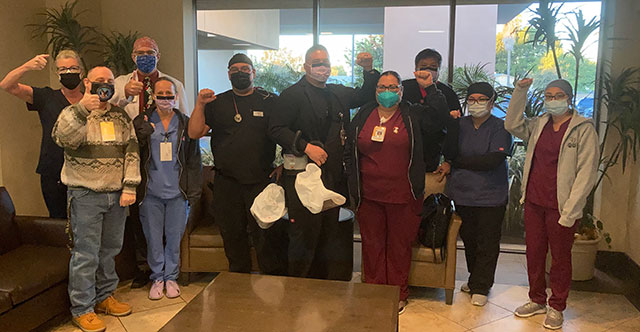 WAMC member actions win COVID pay incentives
January 12th, 2021
Facing another major COVID surge while dealing with severe understaffing, NUHW members at West Anaheim Medical Center demanded better – and won.
Last month, nearly 100 members at WAMC colleagues called on management to "immediately reinstate and expand" a $7 per hour temporary pay raise that had been instituted during the July COVID surge. A delegation of about a dozen workers "Marched on the Boss" to deliver the petition on December 16.
On January 9, management announced its approval of  temporary COVID-19 Crisis and Pandemic pay incentives for NUHW-represented hospital staff. Under Crisis Pay, respiratory care practitioners, LVNs, and medical imaging staff who take extra shifts will receive additional crisis pay up to $30 per hour. Under Pandemic Pay, Staff assigned  to COVID beds in Medical/Surgical Unit, DOU, ICU and ED units will receive additional compensation $8 to $10 per hour.
These new incentives ensure that workers are fairly compensated for the sacrifices they are making during the pandemic. It will also hoped that they will boost staffing during this critical time.
"These COVID-19 incentives are a recognition of the sacrifices we are making during this terrible crisis and the important work that we do caring for patients," said Michelle Davis, a respiratory technician and NUHW Steward.