Stewards celebrate NUHW's first decade, look forward, at 2019 Leadership Conference
NewsSeptember 24, 2019
Our 2019 NUHW Leadership Conference this past weekend was a great testament to the movement we have built since NUHW's founding 10 years ago. Over the course of three days, about 400 stewards from medical facilities across California and Hawaii got a chance to take classes, discuss strategies for winning better contracts, chart a vision for our next decade, hear from elected political leaders, and have a great time getting to know one another. Thank you to all of the stewards who made this year's conference in Anaheim a big success.
Please take a moment to fill out this survey so we can make next year's conference in San Francisco even better.
---
Presidential candidates address NUHW members
Senator Bernie Sanders kicked off our Leadership Conference on Friday with a live video appearance. After Sanders took questions from NUHW members, we watched a recorded interview between NUHW members and Senator Kamala Harris and recorded remarks from Senator Elizabeth Warren, Mayor Pete Buttigieg, Tom Steyer, and Joe Biden. All these videos are available at nuhw.org/2020vote. Our union's endorsement will be decided by our members. Voting concluded Wednesday, September 25, and the result will be announced Thursday, September 26.
---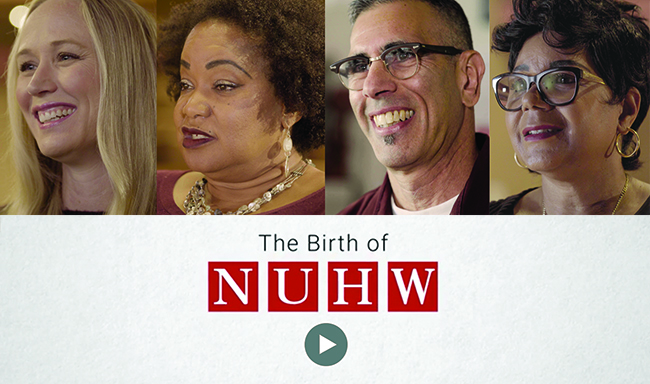 Video: The Birth of NUHW
NUHW has a history unlike any union. We were founded by courageous members who refused to be bossed around by their former union and started a movement that is now 15,000 members strong. Click here to see the film.
---
NUHW members reflect on their union participation
How has being an NUHW member impacted your life? See what several stewards wrote on cards asking them to reflect on their participation with our union. To see the gallery, click here.
---
Elected officials address Leadership Conference
Congresswoman Katie Porter and former State Senator Josh Newman addressed members during our Leadership Conference. Click here to watch their speeches.
---
Elected stewards envision NUHW's next decade
Participants spent time Saturday discussing what big-picture goals we should seek to accomplish over the next 10 years with respect to politics, organizing, and contract standards. Afterward, our executive board approved a document outlining the top objectives and an artist turned that vision into a mural. Click here to see the mural.
---
View the Leadership Conference photo album
Click here for the photo gallery!