Steve Early's new book covers NUHW–Kaiser battle, future of labor movement
KaiserFebruary 19, 2014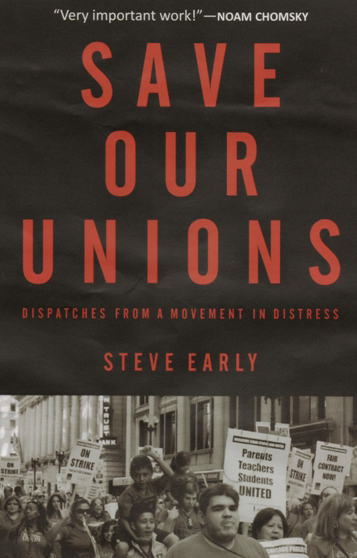 NUHW figures prominently in Steve Early's latest book on the American labor movement. Save Our Unions: Dispatches From a Movement in Distress covers the re-run Kaiser election between NUHW and SEIU as well as NUHW members' aggressive fight against Kaiser's effort to reduce the quality of care for patients and cut caregivers' health and retirement benefits. The book also discusses the growing trend of corporate wellness programs and features former NUHW Secretary-Treasurer John Borsos' critique of these invasive, discriminatory efforts to shift the burden of health coverage to workers.
Save Our Unions describes the challenges facing American workers, whether they're trying to democratize their union, win a strike, defend past contract gains, or bargain with management for the first time. Drawing on forty years of first-hand experience, Steve Early reports on cross-border union campaigning, more effective strategies for organizing and health care reform, and political initiatives that might lessen labor's dependence on the Democratic Party. The book contains vivid portraits of rank-and-file heroes and heroines, both well known and unsung, and takes readers to union conventions and funerals, strikes and picket lines, celebrations of labor's past, and struggles to ensure that unions still have a future in the 21st century. The author's insight, analysis, and advocacy help illuminate the paths to revitalization and reform of workers' organizations, at home and abroad.
Copies of the book are available at cost at NUHW's Emeryville and Glendale offices. The book can also be ordered through Monthly Review Press at monthlyreview.org or by calling (800) 691-2555. $19.95. 344 pages. For a schedule of book-related events and discussions, including some at California locations that may be accessible to NUHW members, see www.steveearly.org. Or to help arrange such an event near your workplace or in your community, contact the author at Lsupport@aol.com.
"This book shows what it takes to defend democracy, workers' rights, and social justice unionism when all are under attack by big business."
—Dolores Huerta
Co-founder, United Farm Workers
Recipient of the Presidential Medal of Freedom
"Very important work!"
—Noam Chomsky
"Once upon a time, in the golden age of labor and the golden age of labor reporting, America had plenty of bold and independent writers who reported on the issues that were vital to working people and the unions that represent them. Today, labor reporting has taken even harder hits than labor. Most American media outlets neglect not just working-class issues but the working class itself. Against the odds, Steve Early has kept the faith, creating a body of work rooted in the very best traditions of radical labor and political reporting going all the way back to the days of Tom Paine."
—John Nichols
Washington correspondent for The Nation
Co-author, The Death and Life of American Journalism
"Never one to mince words or bow to authority, Steve Early's latest work is hard-hitting and thought-provoking. Early is an activist/writer who sees unions, including his own, facing massive challenges but still searching for successful strategies. In Save Our Unions, Early chronicles recent workplace struggles with great sympathy and insight, showing the road taken by workers trying to reignite labor as a movement."
—Elaine Bernard
Executive Director, Labor and Worklife Program, Harvard Law School
"With labor now searching for new directions, this book should be at the top of activists' reading lists. In his latest collection of essays, Steve Early hits on the key themes necessary for reviving the labor movement: union democracy, workplace activism, and a willingness to confront corporate power."
—Joe Burns
AFA/CWA negotiator
Author, Reviving The Strike