Showing our strength on May Day
Published Thursday, May 6, 2021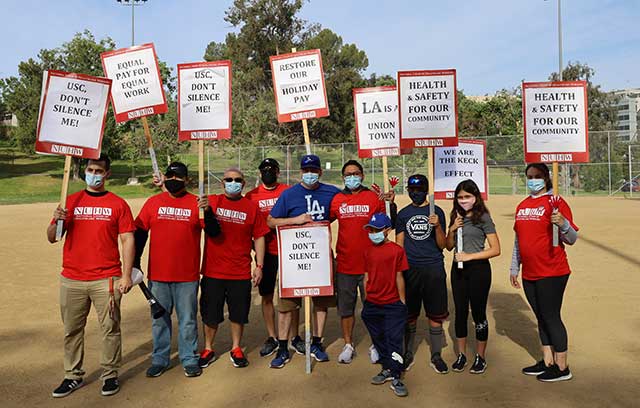 "We rise against any union busting efforts in Los Angeles, in California and across the country!" said NUHW member Joyce Noguera at Saturday's May Day rally at Civic Center in Los Angeles. 
"I have worked for Keck Medicine of USC for three years as a Patient Care Assistant. And as of yesterday, myself and over 1,500 healthcare workers at Keck Medical Center are working without a contract. Not because we want to but because USC chooses to treat its employees unjustly.
"For the last year, we have been working through a global pandemic and how does USC repay us?" Joyce said. "They cut our retirement, refuse hazard pay, take away our paid holidays, compromise on worker safety, refuse free healthcare for all and they want to silence us by banning public actions, info pickets and leafleting."
Before the L.A. May Day event, about 200 USC workers from Keck Medical Center, Norris Cancer Center, and Ambulatory Clinics joined our RN and Alhambra Call Center colleagues for our own May Day rally in Hazard Park, where we demanded that USC respect the work and the sacrifices that we as healthcare workers have made and continue to do. 
May 1 also happened to be the day that our contracts expired, and it came just days after we received a very disappointing economic counterproposal from USC for Keck and Norris in which the university proposed freezing the wage scales for the first year and refused to reinstate our holiday pay at Norris. 
At our Hazard Park rally, one of our coworkers, Doug Kaufmann, recalled that the administration's parking lots were empty as we bore the brunt of the work — and the risk — when the pandemic was at its peak. 
We have always had to fight for the things we deserve and this time is no different. We sent a loud and clear message to USC Administration that we are ready to fight on. In the words of our coworker Noemi Aguirre, "This is not our first rodeo but it will be our biggest rodeo!" 
Following the solidarity action, we joined the larger Los Angeles May Day action, marching from Historic Park to City Hall, where  Joyce Noguera spoke to a crowd of 1000 participants.
This is only the beginning. ¡La Lucha Sigue!
[slideshow_deploy id='22174′ height='500′]