Seton workers picket against layoffs, chronic understaffing
NewsMarch 10, 2021
One year after they rallied to save their hospitals from imminent closure as the pandemic was taking hold, caregivers at Seton Medical Center and Seton Coastside picketed on March 10, demanding that the hospital's new owner rescind layoff notices and address severe understaffing on several units.
"There are nights when we only have two nursing assistants caring for 90 patients," said Rosalie Murti, a nursing assistant at Seton Coastside. "We worked hard to keep our hospitals open for our patients, but it's time for the new owner to invest in our hospitals and work with us to preserve services and deliver top quality patient care."
San Mateo County Supervisor David Canepa, Daly City Mayor Juslyn Manalo and Councilember Pamela DiGiovanni pledged to continue fighting with workers they credited for helping keep the hospital open.
"Make no mistake about it, the heart of Seton hospital is right here, and that's you," Canepa said. "There are jobs at stake and there are lives at stake. If we're not properly staffed up and people's jobs are eliminated, (that's) absolutely unacceptable. If they can't do it, we'll find someone else who will do it."
Elaine Villasper, a Daly City resident, thanked workers for caring for her when she went into septic shock and almost died after delivering her son.
"I am standing here firmly with my feet on the ground because you helped me up from that hospital bed and you told me to stay alive." Villasper said. "I owe my life to you, and because of that I will continue to fight for you."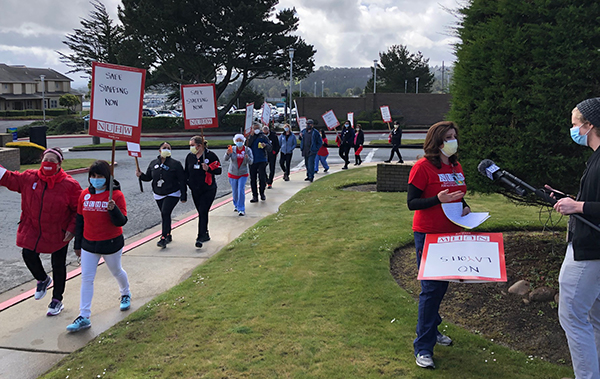 Seton Medical Center, a 357-bed acute care hospital in Daly City, just south of San Francisco and Seton Coastside, a 116-bed hospital and skilled nursing facility in Moss Beach, were nearly shuttered last March after their owner, Verity Health, filed for bankruptcy.
Amid efforts by caregivers to save the hospitals, Gov. Gavin Newsom intervened, leasing 175 beds at Seton Medical Center for the anticipated first wave of COVID-19 patients. In the interim, AHMC Healthcare, a private hospital company based in Southern California, purchased both hospitals.
However, AHMC has not invested the necessary resources into either facility. The company is now seeking to lay off a dozen workers even though caregivers report severe understaffing in several units and union data shows that overall staffing has been cut by more than 10 percent during the past two years. AHMC has also installed faulty computer systems that have resulted in workers not receiving their full benefits and not being able to access their accrued sick leave.
With reporters present from KQED, KCBS radio and two television news stations, workers made clear that AHMC must fully implement their contract and start safely staffing their hospitals.
"We've lost too many good caregivers already to withstand anymore layoffs," said Christina Caridis, a radiology technologist at Seton Medical Center. "We've sacrificed a lot to keep our hospitals open, we want to know that their new owner is as committed as we are to keeping them open and preserving services for generations to come."