Seton and Salinas: How member unity won strong contracts in 2016
California Pacific Medical CenterDecember 21, 2016
NUHW members at Seton Medical Center and Salinas Valley Memorial Hospital waged two very different campaigns this year with two very different employers, but the results were the same: strong contracts that protect benefits, boost wages, and safeguard standards of patient care.
In both campaigns, the deciding factor was member unity.
At Seton Medical Center (Daly City) and Seton Coastside (Moss Beach), NUHW members faced a new employer. New York hedge fund BlueMountain assumed control of the two facilities (and four other California hospitals) as part of its 2015 takeover of the nonprofit Daughters of Charity chain.
Residents were understandably wary about having a profit-driven East Coast investment group running a charity care facility that had served northern San Mateo County and San Francisco for more than a century. Knowing that its reputation was on the line, BlueMountain, which operates the hospital under the aegis of its newly established subsidiary, Verity Healthcare, didn't want to alienate its workforce.
And even if BlueMountain had been primed for a fight, Seton workers had already proven their mettle by standing together for more than a year while SEIU–UHW blocked certification of their election to join NUHW. They went 18 months without a contract before the National Labor Relations Board finally certified the result last November and cleared the way for workers to start bargaining.
And once that happened, workers made it abundantly clear to BlueMountain–Verity that they would not accept the takeaways that SEIU–UHW had agreed to at the hedge fund's other hospitals — reductions in paid time off and severance pay; elimination of extended sick leave, education leave, and jury duty pay; frozen wage scales; and a 50 percent increase in the hours part-time employees must work to qualify for health benefits.
NUHW member unity was on full display during the contract campaign. Workers stickered up every day at the facility to demonstrate their resolve to management and took an active role in bargaining.
"Our members were at every session," said Suad Husary, a respiratory therapist who served on the bargaining team. "We packed the room with supporters to show BlueMountain–Verity that we were determined to win a fair contract."
The administration was slow to begin bargaining but steady pressure by the union's membership kept negotiations moving. The only public action members needed to take was a Town Hall (see video here), which was chaired by Daly City Vice-Mayor David Canepa and San Francisco Supervisor Jane Kim, who publicized the event in an op-ed in the San Francisco Examiner.
The result: On Nov. 9 and 10, Seton members voted 98 percent to ratify a three-year contract that included 9 percent wage increases, market adjustments for classifications that were below other local hospitals, and not a single one of the takeaways accepted by SEIU–UHW.
• • •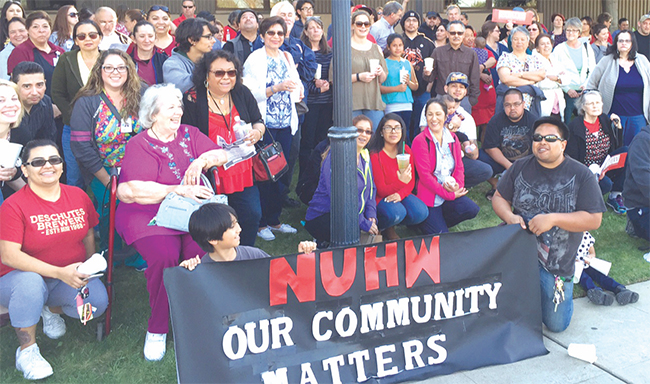 Meanwhile, a very different campaign took place at Salinas Valley Memorial, a public district hospital governed by an elected board of directors. In 2013, the board selected a Texan, Pete Delgado, to oversee the hospital, and then proceeded to rubber-stamped every one of his anti-worker proposals.
Delgado wanted to subcontract jobs to out-of-area workers, implement mandatory overtime, and slash benefits even though hospital profits last year soared to $45.2 million. The hospital's 11.1 percent profit margin was more than double the state average.
Seven hundred NUHW members went on the offensive with a vigil and a one-day strike (with support from CNA-represented nurses, the Teamsters, the Monterey Bay Central Labor Council, CSEA, and SEIU Local 521) that earned coverage in the Salinas Californian, the Monterey Herald, and Monterey Weekly. Members called out Salinas Valley executives for their exorbitant salaries.
Still, the employer refused to budge, so NUHW members took their case to the public with an informational video that racked up more than 136,000 views among Salinas community members on Facebook. Caregivers then voiced their concerns for three more videos about subcontracting, mandatory overtime, and standards of care at the hospital. These videos generated nearly 90,000 views between them. Workers also distributed leaflets at community events, including the annual rodeo.
"Everyone saw those videos and leaflets," CNA Mary Serrano said. "It seemed like the entire community knew about the issues we were dealing with and supported us."
Assemblyman Luis Alejo, who successfully brokered a strike-averting deal between the hospital and workers three years earlier, offered to mediate between the two parties. Delgado reneged on the offer and instead published an op-ed in the Salinas Californian praising the board for "an act of leadership" by rubber-stamping his plan to unilaterally impose concessions on workers. But steward Esther Fierros-Nunez fired back with an op-ed, "A failure of leadership at Salinas Valley Memorial," that took Delgado to task for his "disingenuous spin on the stalled negotiations." A few months later, labor movement icon Dolores Huerta also weighed in with an op-ed, "Salinas Valley Memorial Hospital's Board of Directors needs to serve the community," that called on Delgado and his team to respect their workers and settle a fair contract.
Ultimately, under threat of another strike, the Salinas Valley Memorial administration backed down. On Aug. 24, 89 percent of voting members approved a contract that protects standards of care, bans subcontracting and provides wage increases totaling almost 11 percent. NUHW members also retained the highest amount of paid time off among the hospital's unionized workforce.