Santa Rosa Memorial Hospital: Union News and Views — May 2014
St. Joseph Hospitals, Sonoma CountyMay 15, 2014
Fair scheduling and seniority
Some union members feel scheduling in their department is not being done fairly. Union seniority as defined in our contract is very important to fair scheduling. Union seniority means how long you have worked at Memorial Hospital in a union position (it does not include if you have worked at other St. Joseph system hospitals!)
Regular employees should be scheduled according to their requests to the greatest degree possible. Full-time workers and then part-time workers are prioritized, then relief workers are added to the schedule. There are some managers who schedule the relief workers first, then use the full timers and part timers to fill in the remaining shifts. We think this is the wrong way to schedule the department. If you have concerns about how your manager does the schedule, please contact a steward or the union organizer.
Eureka! NUHW grows in the St. Joseph system!
Workers at St. Joseph Hospital in Eureka, California —  one of Memorial's sister hospitals — voted to organize as a union by a 2 to 1 margin in April. They are now electing their Bargaining Committee and filling out surveys about what they want to see in their first contract.
Shop stewards at Santa Rosa Memorial traveled to Eureka, telephoned St. Joseph workers, and were shown in union literature talking about how much has improved since the union was formed at Memorial.
The same union organizer will represent Santa Rosa Memorial and St. Joseph Eureka. The unity of the Memorial and St. Joseph workers will be beneficial to everyone!
Don't delay in consulting the union! Managers get one chance!
If you have issues of concern as an individual or as a group, you should consult your union reps promptly. Too often members argue with department managers for months about something without satisfaction. You should give your manager one chance to address your issue and if they have not solved your problem to your satisfaction, then contact a union steward or the organizer. Don't run around in circles! Delays in dealing with issues of concern might make a grievance "untimely" and more difficult to resolve.
Steward meetings now held at the hospital!
Starting in May, your Shop Steward Council will be meeting at the hospital the second Tuesday of every month in Room A near the cafeteria. The organizer will be there at 5:30 pm (or there will be a sign that she is in the cafeteria) to speak to anyone wishing a confidential conversation.  At 6 p.m. members are invited to bring issues of concern to the stewards' attention. If you have an issue to discuss please schedule in advance with Organizer Marilyn Albert by writing to malbert@nuhw.org or by calling (510) 725-1880. At 6:30 p.m. the stewards meeting starts and members are welcome to observe.
NUHW Pulse
For more news and information from our co-workers throughout NUHW, see the union's digital newsletter, NUHW Pulse, at NUHW.org/pulse.
Get involved!
Steward Meetings are the second Tuesday of every month at 6 p.m. in Room A, near the cafeteria.
All NUHW members are invited to attend.
If you want to schedule a meeting with Organizer Marilyn Albert or one of the stewards, contact Marilyn at malbert@nuhw.org or (510) 725-1880.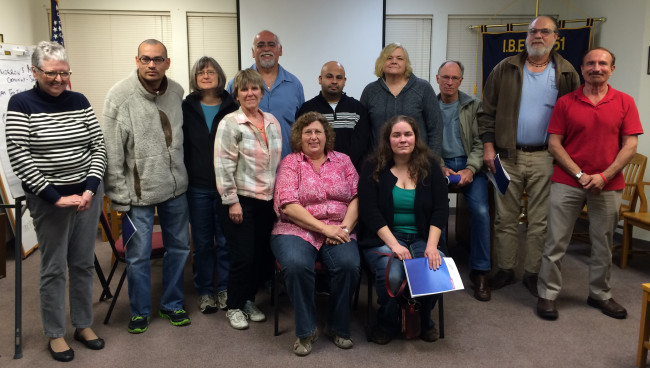 Contact your organizer
Marilyn Albert, RN
malbert@nuhw.org
(510) 725-1880.
Contact your stewards
Miki Bloom
Labor and Delivery
mikibloom@comcast.net
Anne Beach
OR
anne2020@sbclglobal.net
Christine Hoex
Imaging
choex@sbcglobal.net
Connie Baker
SPD
conniebaker24@yahoo.com
Theron Berry
Imaging
theron.berry@gmail.com
Denise Tillman
Admitting
denise_tillman@yahoo.com
George Burmeyer
Echo
gburmeyer@gmail.com
Jack Nicholson
Imaging
jnicholson2020@gmail.com
Marlana Slater
Central Stores
primeinnovations@msn.com
Jo Obermeyer
Imaging
johouse2010@gmail.com
Nancy Timberlake
ICU – Tele
nancytlake@gmail.com
Sherrie Dickey
Inpatient Lab
sherriedickey1@att.net
Sue Daly
LVN – Neuro
punglette@yahoo.com
Teresa Ortega
OR
Teresa95492@yahoo.com
Jennifer Wilson
Nursing Administration
Jwilson15603@yahoo.com
Mito Gonzales
Outreach Lab
madmito@yahoo.com
Tammy Alander
Urgent Care Centers
talander@comcast.net
Menfil Martinez
Inpatient Lab
itsmenfil@hotmail.com
Omar Rodriguez
EVS
omarrodriguez98@gmail.com