Salinas caregivers hold vigil to protest staffing levels, low wages, benefit cuts
NewsMarch 1, 2016
On Thursday, February 25, NUHW members at Salinas Valley Memorial Hospital, with the support of their RN coworkers, Assemblyman Luis Alejo, Monterey County Supervisor Fernando Armenta, held a  vigil to protest the hospital's inadequate staffing levels and policies that undermine the quality of patient care; hospital officials' insistence on subcontracting jobs currently held by workers who live in the community; the denial of cost-of-living wage increases for caregivers; and increases in the cost of employee healthcare coverage.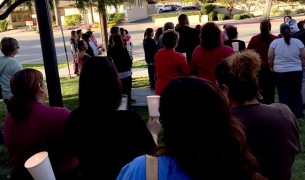 After the vigil, the caregivers marched to the SVMH board room to demand that the public-district hospital increase its staffing levels and give its workers a fair contract.
SVMH has failed to respond to the workers' proposals for staffing ratios and a policy that would require the hospital to provide adequate training for nursing assistants. SVMH has a history of assigning nursing assistants patient-care responsibilities for which they have not been trained and has rejected workers' requests to correct this practice.
"Failure to train staff is bad for patients and bad for workers," said nursing assistant Sandra Jackson. "SVMH is cutting corners to save time and money and ultimately it's the patients who pay the price."
SVHM officials refuse to offer workers an adequate cost-of-living living increase, in stark contrast with the 40 percent wage increase CEO Pete Delgado received after just one year on the job. SVMH officials also have proposed changes to workers' healthcare coverage that include significant increases for premiums and co-pays — cost hikes that would quickly nullify the wage increase.
"It's tough enough to get by these days," said George Ross, a licensed vocational nurse and obstetrics technician, "but SVMH is making it even harder for us to provide for our families."
Workers have been engaged in contract negotiations with the community-owned hospital since July 2015.
SVMH has enjoyed healthy profits for the past few years — $28.9 million in 2014 and $41.2 million in the first eleven months of 2015. Its profit margin of 8.82 percent for the first three quarters of 2015 nearly doubled the statewide average of 4.66 percent.