Report: Uncompensated Care: How St. Joseph Health's Low Wages Leave Caregivers Behind
NewsJuly 3, 2015
In May, Humboldt County healthcare workers hosted a community discussion and unveiled a new report, Uncompensated Care: How St. Joseph Health's Low Wages Leave Caregivers Behind.
The report documents the harmful effects of low wages paid at the county's two St. Joseph Health System hospitals and analyzes the far-reaching consequences of St. Joseph's employment practices, including risks to patient care and safety, hidden costs to taxpayers, public health risks, and long-term impacts on the community and local families.
The report found that taxpayers are forced to subsidize the tax-exempt nonprofit St. Joseph Health System's low wages, which qualify many caregivers and their families for publicly funded safety net programs. Uncompensated Care shows how many St. Joseph caregivers, even those with years of service to St. Joseph, struggle to support families even on full-time wages and are often forced to rely on public assistance to make ends meet. The report includes profiles of four St. Joseph–Humboldt caregivers — a nursing assistant, a monitor technician, a housekeeper, and a secretary — two of whom are single mothers struggling to provide food, care, shelter, and an education for their children on less than $13 per hour.
The briefing and discussion took place May 20 at the Central Labor Council in Eureka. The community was invited to discuss regional compensation standards and explore how to build a more equitable North Coast economy.
Click here to read the Lost Coast Outpost story and click here to listen to the one-hour discussion with St. Joseph Eureka workers Kellie Shaner and Allen McCloskey and NUHW Lead Negotiator Charlie Ridgell on the July 2 broadcast of KHSU's Thursday Night Talk.
KINS/KWSW radio also covered the story, as did KMUD community radio.The Eureka Times-Standard interviewed workers but has yet to publish a story. However, the Times-Standard ran a full-page ad from St. Joseph Health System that criticized the report, even though the paper has yet to inform its readers about the report and the issues it raises.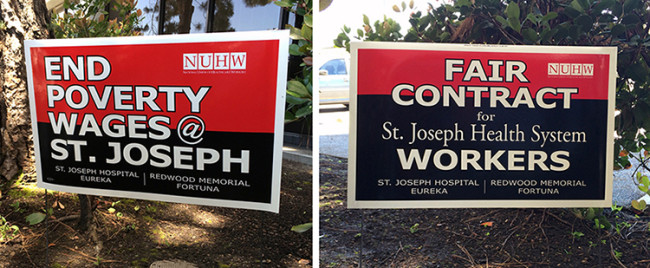 Meanwhile, the community has come out in support of the workers. Hundreds of lawn signs have been posted through Eureka and Fortuna calling on St. Joseph to put an end to poverty wages and settle a fair contract with its caregivers.
With more than 1,400 employees, St. Joseph Health System is Humboldt County's largest private-sector employer. Yet, the nonprofit health system's substandard wages have forced many caregivers and support staff at Eureka's St. Joseph Hospital and Fortuna's Redwood Memorial Hospital into economic insecurity.
"My wages are just not enough," said Tasha Jimenez, a monitor tech and nursing assistant at St. Joseph Hospital in Eureka. "We are serving our community, while St. Joseph is making a lot of money by keeping their workers in poverty."
St. Joseph's low wages have pushed a number of workers into the ever-growing ranks of the working poor. Low incomes and a lack of affordable health care cause many workers to endanger their health and the health of their families by postponing or forgoing medical care.
"We're just living paycheck to paycheck," said Rosemary Lopez, a St. Joseph housekeeper.
As a tax-exempt nonprofit corporation, St. Joseph does not pay taxes. Yet Humboldt taxpayers are subsidizing St. Joseph's low wages. Many caregivers and support staff earn incomes far below self-sufficiency standards, forcing a large portion of the workforce to rely on taxpayer-funded safety net programs, such as food stamps and Medi-Cal, and exposing them to serious financial hardships.
"Every little bit of income goes to food and clothes for my children," said Brandi Scates, a nursing assistant at St. Joseph. "After ten years [at St. Joseph], I should be at a point in my life where I don't need public assistance. When you're in a position at work, you evolve, you get better pay, better benefits. But here there's nothing."