Racial Justice & Equity
SURVEY RESULTS FROM
NUHW KAISER PERMANENTE CARE PROVIDERS

Recently, more than 1,500 Kaiser Permanente mental health clinicians and healthcare professionals were surveyed about racial justice and equity issues they and their patients encounter at Kaiser Permanente.
CARE PROVIDER EXPERIENCES
62% of non-white care providers surveyed reported experiencing racism working at Kaiser Permanente
47% of all care providers surveyed reported witnessing racism working at Kaiser Permanente
Many care providers who reported experiencing or witnessing racism also felt impacts on their their sense of safety, agency, and belonging at work, and their likelihood of remaining at Kaiser Permanente long-term.
REPORTING RACISM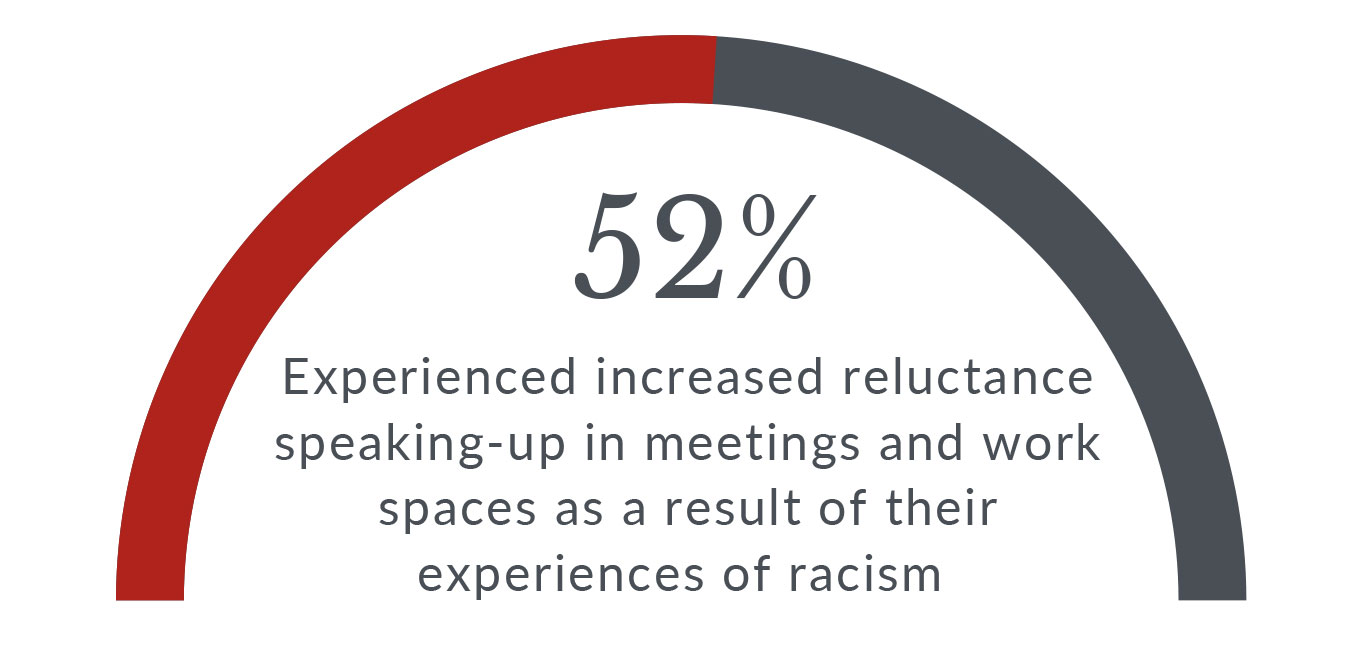 23% felt comfortable reporting the incidents of racism
33% received support to address the situation if they did make a report
38% now feel isolated or unsafe at work
"There is a huge emphasis on productivity in our department and less on clinician wellness and balance. Most clinicians if not all are experiencing burnout especially during this time of COVID and there [are] not enough resources for clinicians to rest while carrying the burdensome caseload. BIPOC therapists have been especially impacted by the ongoing racial violence and injustice happening in society and we are simultaneously processing this on our own while holding space for our patients. There isn't enough support for BIPOC therapists to rest, process, and have healthy balance with the current work expectations." – Survey Respondent
WORKPLACE DISCRIMINATION
Care providers surveyed identified having experienced the following
incidences of workplace discrimination at Kaiser Permanente
"Being asked what my intentions were for being on the hospital premises until I show my work badge."
"Inability to even discuss alternative schedules or profile accommodations for staff with disabilities."
"Negative comments about my pregnancy by management, including how it negatively impacted me professionally."
"Some managers have been overtly racist and when brought up to management nothing was done about it and in fact [the] manager was told about it and made things more hostile."
LEAVING KAISER PERMANENTE
35% of care providers surveyed have considered leaving Kaiser Permanente for these reasons
* This number is in addition to those who have already left
BARRIERS TO ADVOCACY
Care providers surveyed identified experiencing the following barriers to advocacy at Kaiser Permanente
Lack of resources and institutional inertia and/or inaction
Ideas being shut down
Management making the excuse that there is not enough time to address the issue
Feeling unheard or ignored
Feeling isolated or being the only one speaking up
PATIENT EXPERIENCES
Survey respondents were asked about the barriers to services reported by their patients, and what factors have caused patients who experience cultural, racial, gender- or sexuality-related, disability-related, or other forms of marginalization to want to end treatment and/or made it more difficult for them to engage in services.
AVAILABILITY OF SERVICES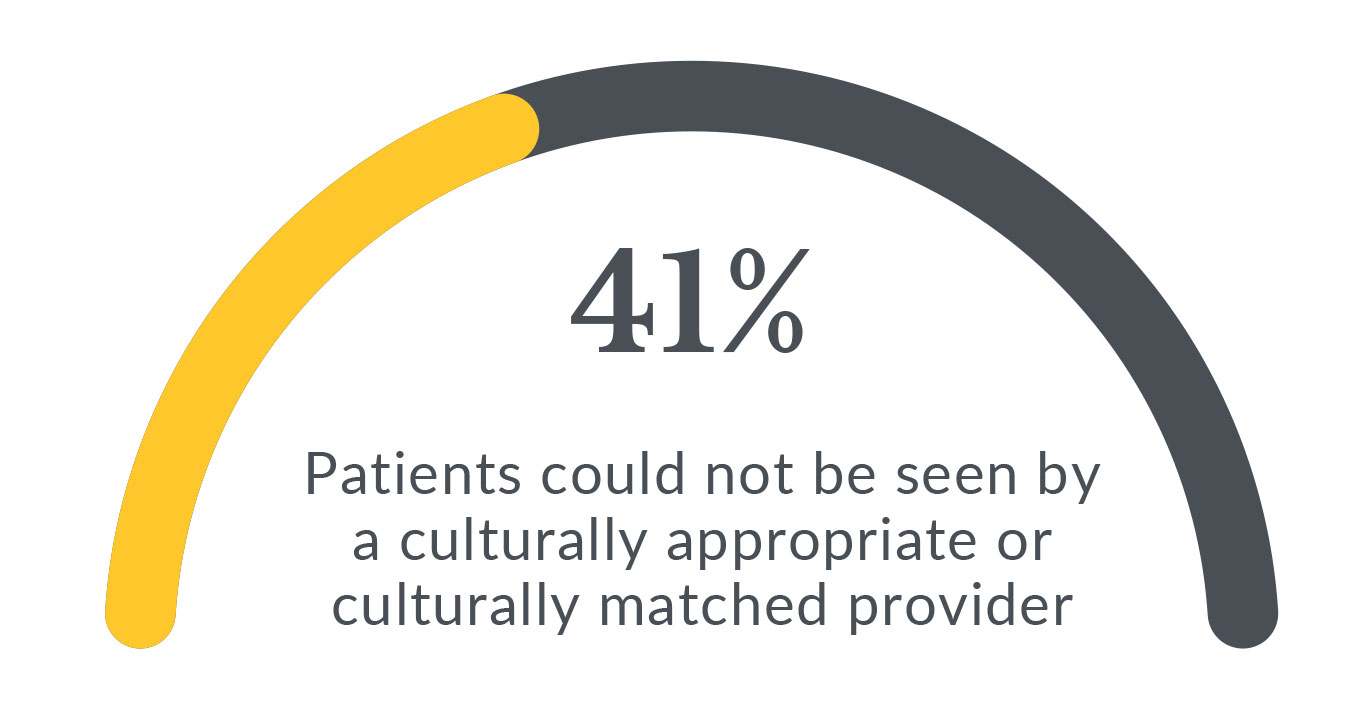 ACCESSIBILITY
36% have had patients who could not access treatment because materials were not translated into appropriate languages
34% have had patients who could not access services that met their language needs
"I work in a primarily Latinx community for KP and our Spanish speaking patients do not receive the same access to care as other patients (e.g. limited Spanish groups). All patients pay the same premiums and they should receive the same access to care."
47% of care providers reported witnessing racism, towards their patients, from managers, other colleagues, and/or other patients at Kaiser Permanente
"I cannot emphasize enough the importance of translating paperwork to the language preferred by the patient. I have some monolingual Spanish speaking patients who are not given that option and that shocks me that we have not yet translated out paperwork to the second most spoken language in this country."
NUHW RECOMMENDATIONS
Kaiser Permanente must act now
Survey responses underscore the urgency Kaiser Permanente care providers feel when it comes to issues of racism and discrimination in the workplace. There are tremendous discrepancies between the organization's expressed values and the daily experiences of care providers. Below are actionable next steps NUHW provided to Kaiser Permanente leadership. These are standard industry best practices in providing culturally responsive care. Kaiser Permanente must act now.
Implement a process for providers to give feedback and evaluation of their managers to support improved effectiveness and accountability and create a more robust training program for managers.
Allow a greater number of providers to reduce hours and switch to flexible schedules.
Develop a formal system of exit interviews when providers leave Kaiser Permanente, in person and/or by anonymous survey, that allows those who are leaving to provide honest feedback about their reasons for leaving. And be transparent with the information gathered.
Improve staffing overall and ensure recruiters are working directly with their local clinical teams to identify shortcomings and strategies in the recruitment of a diversity of candidates. Think about where and how recruitment happens in order to open doors to invite in diverse candidates.
Ensure there is core group programming in non-English languages available to patients in all clinics and develop mechanisms to increase the availability of bilingual services.
Ensure all group, therapeutic, and social work support resources, as well as all websites and patient portals are translated into other languages and that all documentation, measures, and other patient forms utilize inclusive language that reflects our members' identities (pronouns, chosen name, remove/limit binary language).
Improve the bilingual pay differential and expand the approved and tested languages across all regions in order to support recruitment of bilingual clinicians, availability of services and culturally responsive care.
Build mechanisms to allow for a more sustainable workload and caseload, such as caseload limits and longer appointment times when working with culturally diverse patients and patients speaking non-English languages.
Add both Martin Luther King Jr. Day (federally recognized as of November 2, 1983) and Juneteenth (federally recognized as of June 16, 2021) as paid holidays for all employees.
Provide training and ongoing outside consultation on cultural humility, diversity, unconscious bias, antiracism, microaggressions etc, and ways to surface and address structural and systemic changes that are needed. Require that staff and managers participate and that time for these trainings is built into provider schedules.
This specific effort by NUHW members is an attempt to address not only the systemic and structural racism at Kaiser Permanente but as well, the institutional racism that exists within the healthcare system. We do this for the benefit of both care providers and patients alike. This effort has been ongoing since 2020 and will continue through organizing and advocacy of our NUHW Racial Justice and Equity Committee formed by Kaiser Permanente care providers.