Providence St. Joseph
Watch
Keeping a watchful eye on the nation's ever expanding third largest hospital chain.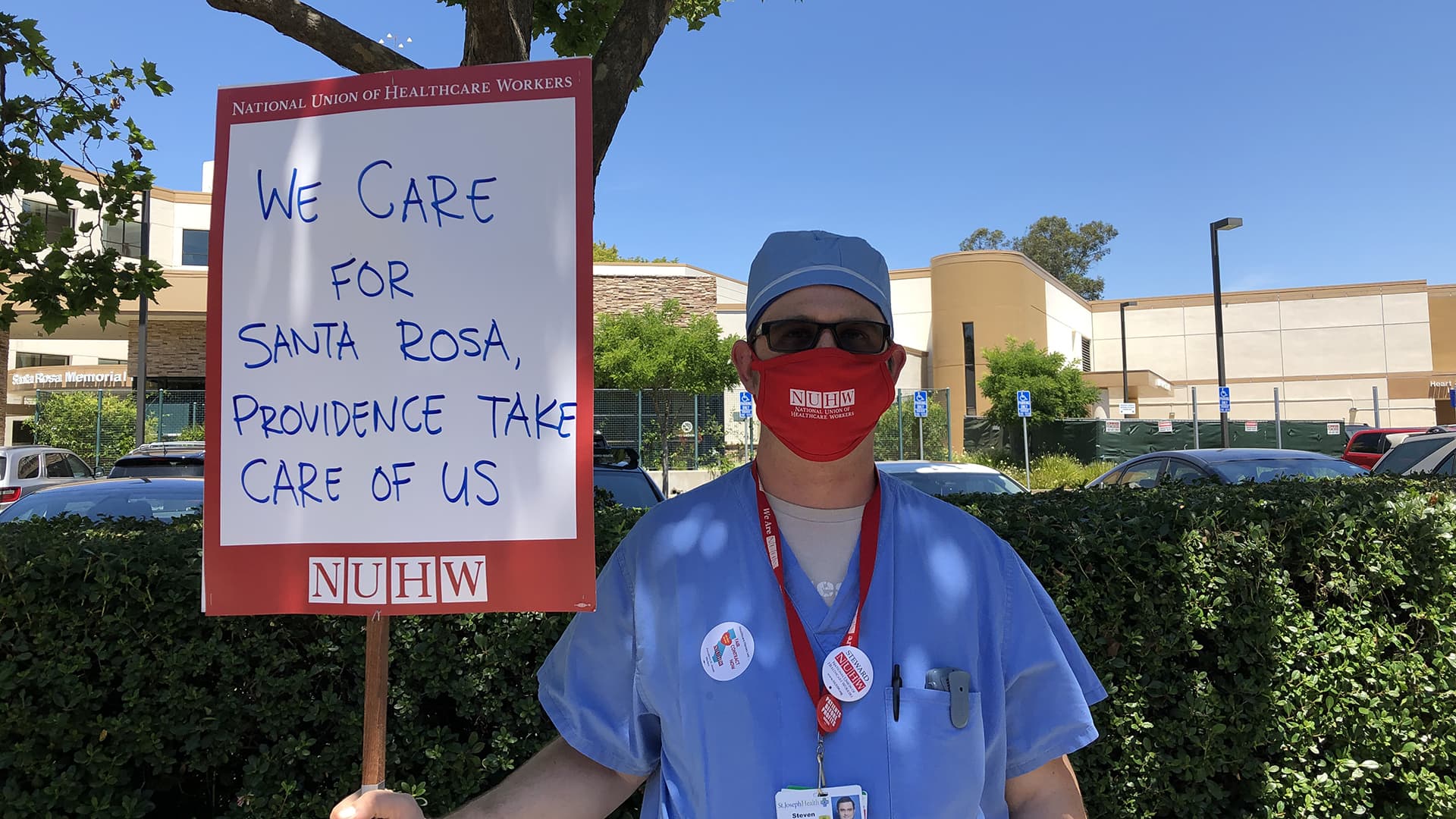 Throughout the COVID-19 pandemic Santa Rosa Memorial Hospital — the entire Providence St. Joseph hospital system — has been one of the worst offenders when it comes to refusing to test workers or providing appropriate PPE.
So, it was unfortunately no surprise that Santa Rosa Memorial in August of 2020 reported one of the worst COVID-19 outbreaks of any acute care hospital in Northern California. A total 26 Santa Rosa Memorial caregivers tested positive for the coronavirus as did as many as four patients.
Santa Rosa Memorial, which was already severely understaffed, even brought in help from the National Guard to provide additional nurses and the nursing assistants — the two job classifications most impacted by the outbreak.
"They're short-staffed," a nurse told the Santa Rosa Press Democrat, adding that caregivers must keep working while awaiting COVID-19 test results. "I feel like our management and administration is more concerned about staffing than they are about employee safety."
This outbreak never should have happened. Workers were put at risk for three reasons:
The hospital has refused to test caregivers, even those with symptoms. At the onset of the outbreak, it denied a test to a worker who was feeling sick and later tested positive for COVID-19.
The hospital is not providing N95 respirator masks for nursing assistants, transporters and phlebotomists who are caring for patients who either have COVID-19 or are suspected of having COVID-19.
Despite testing newly admitted patients for COVID-19, the hospital is not fully isolating them while they await the test results, increasing the risk of spreading the virus.
With Providence refusing to test workers, Santa Rosa Memorial also failed to do effective contact tracing and quickly get a handle on the extent of the outbreak. Hospital officials trace the outbreak to August 6, but they didn't inform caregivers until Aug. 28 — the same day the hospital finally began widespread testing.
Santa Rosa Memorial Hospital is the designated trauma center for California's Sonoma County. It's critical that it be safely staffed and that patients and caregivers be protected from infection. Providence has reported making a $201 operating profit running the hospital over the past three years, yet it hasn't found the money to test all caregivers or provide them with N95 respirator masks.
Providence isn't just failing to protect the health of its caregivers. The COVID-19 outbreak came just weeks after workers held a five-day strike protesting Providence's demand that they accept a new contract with cuts to their health benefits and sick leave accruals.
"They can afford this," Chuck Desepte, an X-ray technician, told In These Times. "We don't want to go backwards. We've been here for this community over and over again."
Join our email list to stay updated on the merger