Sign the Petition: Save the Family Birth Center at Petaluma Valley Hospital
The Issue
The Family Birthing Center at Petaluma Valley Hospital is in jeopardy, but there's still time to save it.
Sign our petition urging the Petaluma Valley Hospital's prospective buyer to commit to keeping the Family Birth Center open long into the future.
This November, voters are being asked to approve selling Petaluma Valley Hospital to NorCal HealthConnect, a subsidiary of its current operator, Providence St. Joseph Health. But Providence is only agreeing to maintain labor and delivery services for five years.
Bringing babies into the world isn't a big money-maker for hospital chains like Providence, but it shouldn't have to be. It's an essential service of any community hospital — and one that Providence can easily afford to provide. Providence has $12 billion in cash reserves and made a $20 million profit operating Petaluma Valley in Fiscal Year 2019.
Newsweek recently ranked Petaluma Valley as one of the nation's top maternity hospitals.
Don't let Providence executives shortchange our community. Let them know how important having a birthing center in Petaluma is to all of us.
The Petition
Dear Buyer:
Keep the Family Birth Center open long into the future.
Petaluma Valley's Birthing Center is at risk!
Help us save it!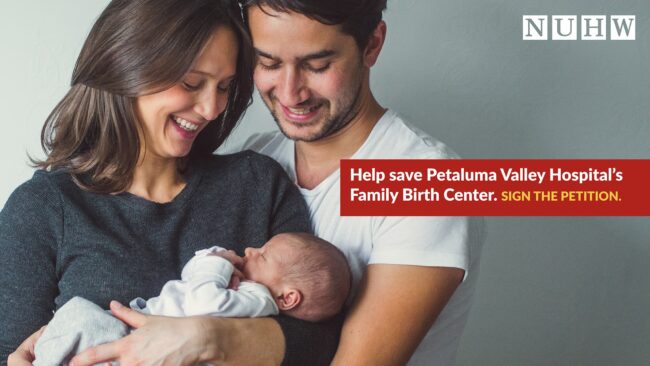 Sign the Petition