October 2021 PULSE
PulseNovember 1, 2021
In October, NUHW members celebrated the passage of our mental health access bill, welcomed new members from two successful organizing drives, participated in a public hearing on Kaiser's mental health care system, authorized strikes, and joined with community allies to keep coal from being transported through their community.
Please read the stories below, and be sure to check out our new training and education website, and follow us on Facebook, Twitter, and Instagram, too.
Note: Photographs of people without masks were taken outdoors and/or before the COVID-19 pandemic.
---
NUHW's mental health bill is signed into law
The bill will require insurers to provide follow-up mental health and addiction medicine treatment appointments to patients within 10 business days. Read more.
---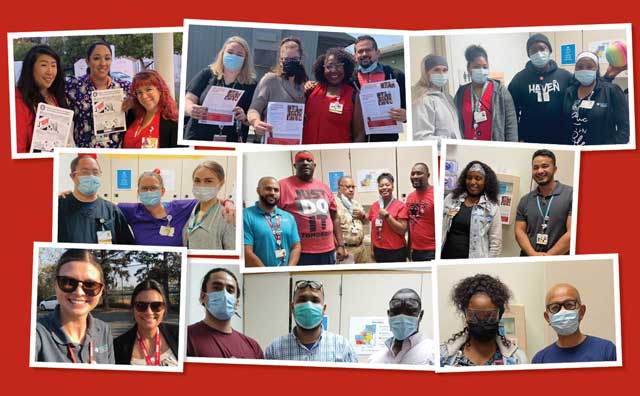 NUHW wins two organizing drives in Northern California
Nearly 200 workers at the Sutter Psychiatric Center and Seton Medical Center have chosen to join NUHW. Read more.
---
Kaiser clinicians authorize strike in Northern California and Hawaii
The strike authorization vote was approved as clinicians are seeking to win a contract that increases mental health staffing and improves working conditions. Read more.
---
Therapists blow the whistle on Kaiser
During a first-of-its-kind hearing, the San Francisco Board of Supervisors listened to clinicians debunk Kaiser's falsehoods and reveal the truth about its mental health care system. Read more.
---
Steward Spotlight: Chuck Desepte
A longtime union member, Chuck Desepte ramped up his participation to help win a new contract at Santa Rosa Memorial Hospital at the outset of the pandemic. Read More.
---
Steward Council says no to coal train in Humboldt County
Stewards at St. Joseph and Redwood Memorial hospitals voted to join a coalition opposing a plan to ship coal from Humboldt Bay. Read more.
---
NUHW offering online continuing education courses
Need CE units? Check out our online courses for members in licensed and certified job classifications. Learn more.
---
News of the Month
Read our roundup of the latest labor and healthcare news from top media outlets.