NUHW members show solidarity with RN colleagues
NewsJune 27, 2022
When registered nurses represented by the California Nurses Association went on strike at two hospitals this month, their NUHW colleagues stood in solidarity.
At Seton Medical Center in Daly City, registered nurses and NUHW-represented healthcare workers for years have fought together: first to keep the hospital from closing and now to demand that the new owner, AHMC, pump more money into the facility, which is plagued by a lack of working equipment and severe understaffing.
When the nurses went on strike for two days, NUHW members joined them on the picket line, and Phil Florendo, an NUHW-represented care manager, spoke during a rally on the picket line.
"Everything that our nurses have said about Seton Medical Center is the truth," Florendo said. "We don't have proper supplies. We don't have enough staff. AHMC is failing our patients, and our patients deserve better."
Florendo shared that last December, he was one of 44 professional workers who joined NUHW. Now, six months later, the unit is down to 22 because AHMC is refusing to pay fair wages or provide acceptable working conditions.
"My colleagues and I love this hospital, and we love the patients we serve, Florendo said during the rally. "We don't want to leave, but it feels like AHMC has no interest in keeping us here."
On June 23, registered nurses at Kaiser Permanente's Los Angeles Medical Center held a 24-hour strike protesting a shortage of nurse staffing and supplies. NUHW Secretary-Treasurer Sophia Mendoza spoke at the rally that was attended by several NUHW members, including Rhonda Petersen, a physical therapy assistant at Providence Cedars-Sinai Tarzana Medical Center.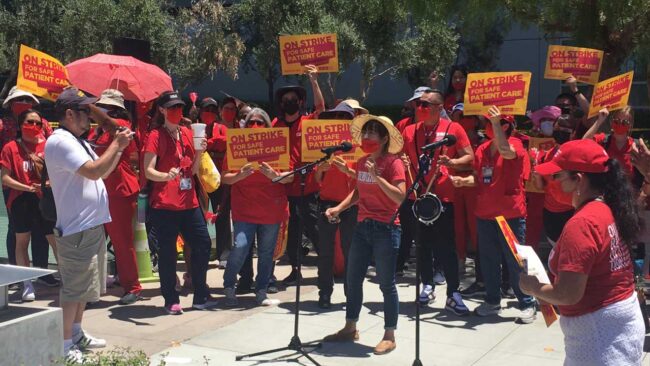 "It was inspiring to see the nurses standing up for themselves and their patients," Petersen said.
She added, "They're fighting for safe staffing and protections against workplace violence which is necessary in our hospitals. It's the norm to brush violent incidents under the carpet, but they're fighting to make sure they don't happen again. We all deserve a safe workplace. I'm excited for us at Tarzana to keep building our strength so we can win a contract that improves our lives and protects the lives of our patients."