NUHW members leaflet San Francisco event honoring Kaiser CEO's "vision of healing"
KaiserApril 2, 2015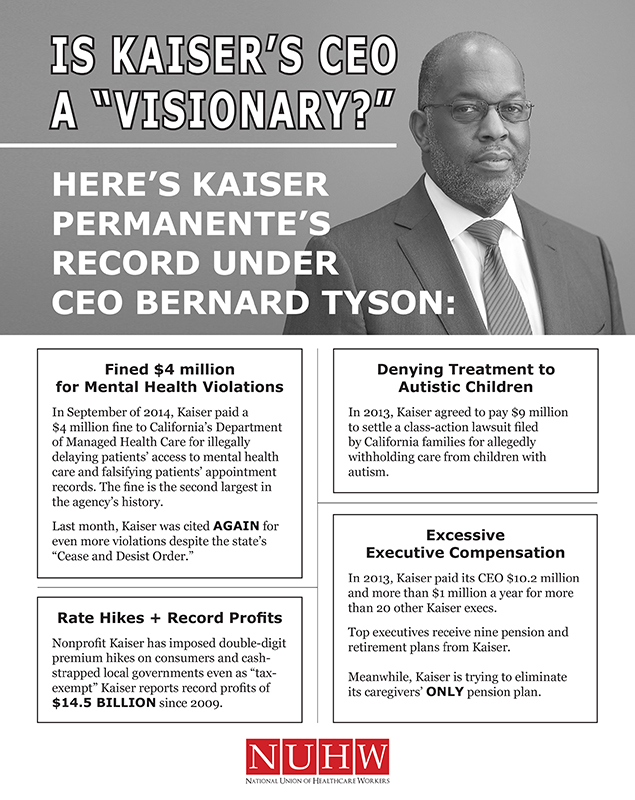 The San Francisco Chronicle narrowly avoided an embarrassing mistake Tuesday night by not giving its first annual Visionary of the Year Award to Kaiser CEO Bernard Tyson. A winner among thirteen nominees was announced at a gala dinner March 31 at the city's Fairmont Hotel.
NUHW members distributed leaflets at the event to inform San Francisco's elite of Tyson's true record as an executive at Kaiser Permanente. Tyson, who arrived with his wife and bodyguard, refused to accept a leaflet. NUHW members leafleted outside the hotel after Tyson's bodyguard had hotel security guards bounce them from the lobby.
Chronicle columnist Leah Garchik described the scene this way:
At the Fairmont on Tuesday night, the Visionary of the Year award — sponsored by The Chronicle and the St. Mary's MBA program — was to be bestowed at a banquet. The guest list included some of the city's most popular kids (the Shultzes, the Buells, Willie Brown, for example) and at least one of its most controversial (Archbishop Salvatore Cordileone). But Kaiser Permanente CEO and Chairman Bernard Tyson, a visionary nominee, was the only guest greeted by a formal welcoming committee.

Members of the National Union of Healthcare Workers, who have been in negotiations with Kaiser, leafleted arriving guests. "God bless America," said Tyson, without a trace of annoyance. "They have the freedom to speak their piece. They didn't disrupt me."
Courage Campaign and the Marin County chapter of the National Alliance on Mental Illness published a blistering op-ed in the San Francisco Examiner last week outlining the case against Tyson's "vision of healing."
"The selection of Kaiser Permanente CEO Bernard Tyson as a candidate for a 'visionary' award requires a willful blindness on the part of the nominating committee," wrote Courage Campaign Executive Chairman Dr. Paul Song and NAMI Marin VP Rick Roose. "Just a few weeks ago, for the second time in as many years, Kaiser was slammed for violating California laws by forcing thousands of patients to endure lengthy, illegal waits for basic mental health care."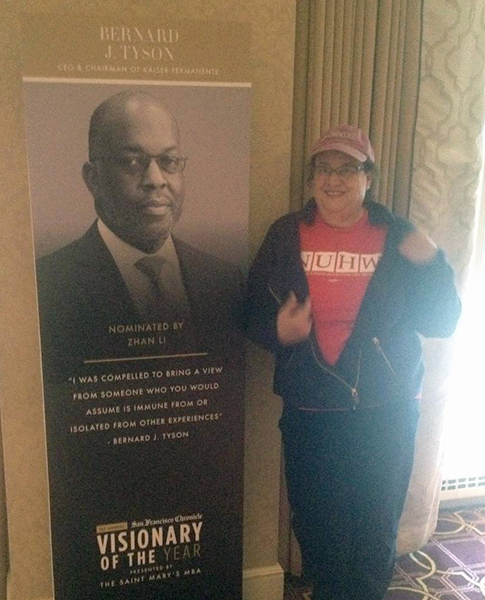 The op-ed goes on to describe the often tragic consequences for patients, as well as Tyson's effort to eliminate pensions for Kaiser caregivers while the "nonprofit" brings in record profits and Tyson and other top executives pocket exorbitant salaries.
"If this is Tyson's vision of healing," Song and Roose conclude, "he needs a new prescription."
The Chronicle instead gave the award to Evan Marwell, founder of the nonprofit Education Superhighway, which strives to provide high-speed Internet access to every public classroom.