NUHW members hold largest-ever strike at UCSF Benioff Children's Hospital Oakland
NewsApril 20, 2023
This page is also available in:
Español
After more than a year of negotiations, 1,200 NUHW members held the largest strike ever at UCSF Benioff Children's Hospital amid the university system's refusal to protect jobs and medical services in the East Bay.
NUHW members, including respiratory therapists, nursing assistants, housekeepers, food service workers, clerical workers, mental health therapists and occupational therapists, began walking picket lines at 6 a.m. April 19. One hour later they were joined by registered nurses represented by the California Nurses Association, who struck in sympathy along with members of International Union of Operating Engineers, Local 39 and the Caregivers and Healthcare Employees Union.
By mid-morning striking workers lined the periphery of the hospital, dancing to music and chanting "Keep Care in Oakland." Additional workers walked picket lines outside UCSF's Pediatric Outpatient Clinic in Walnut Creek.
"This strike is about protecting our patients, our families, our programs and our jobs in Oakland," Felicia Hashimoto, an occupational therapist, at the hospital told her colleagues during a morning rally.
While a 2014 affiliation agreement that put UCSF Health in control of the non-profit 223-bed Oakland hospital and satellite clinics was touted as the best approach for strengthening the institution's finances, hospital employees have repeatedly raised concerns about UCSF under-resourcing care in the East Bay and making families travel across the Bay to UCSF's children's hospital in San Francisco's Mission Bay neighborhood.
"Services are being closed. Programs are being shrunk. Surgeries that used to happen here are happening over there," Ruth Crowe, a social worker at the hospital, said during the rally. "It's not OK. We're not going to stand for it. We're here together to stand together for this community."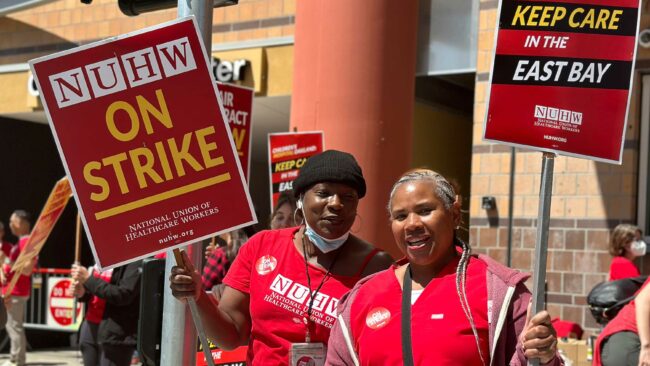 Hashimoto said that because of understaffing, infants she evaluated the previous day won't be able to be seen again for treatment until July or August. "How is that acceptable?" Hashimoto asked. "These are three-month olds who are being asked to wait the timespan of their life for their first follow-up. Would you stay silent if this was our child?"
In contract bargaining, NUHW members have been seeking to protect jobs and medical services by requiring UCSF to provide sufficient notice of any further cuts so workers can mobilize community opposition. Workers are also pushing to address understaffing by insisting on ensuring that all workers in the East Bay make market wages and ending UCSF's practice of keeping workers in lowered paid classifications while making them do more highly-skilled work — which Hashimoto said amounted to "wage theft."
UCSF has refused to reach agreement on these points. Its negotiators ceased bargaining less than a week before the strike and refused requests to resume negotiations in an effort to avert the one-day work stoppage.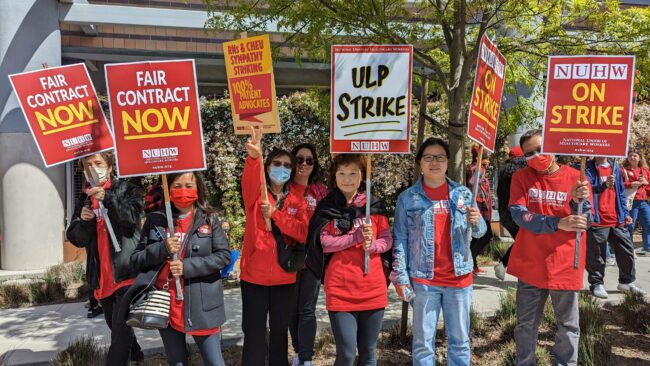 "We've lost trust that UCSF is committed to providing the services that this community needs and deserves," Crowe said.
Fran Merriweather, a social worker at the hospital for more than 30 years, added, "We are a committed group of people who work with families at this hospital, and … we want UCSF to be committed to our families in the ways that we are."
NUHW members have brought their concerns about UCSF's stewardship of the hospital public during a 2021 Town Hall and a picket earlier this year that generated significant media attention. Their strike was covered by KQED Public Radio, KTVU-2, KCBS Radio, Becker's Hospital Review and CBS San Francisco.
Elected officials who visited the picket lines included BART Board Director Lateefah Simon, Alameda County Supervisor Nate Miley, Oakland Councilmember Dan Kalb and AC Transit Director Jovanka Beckles.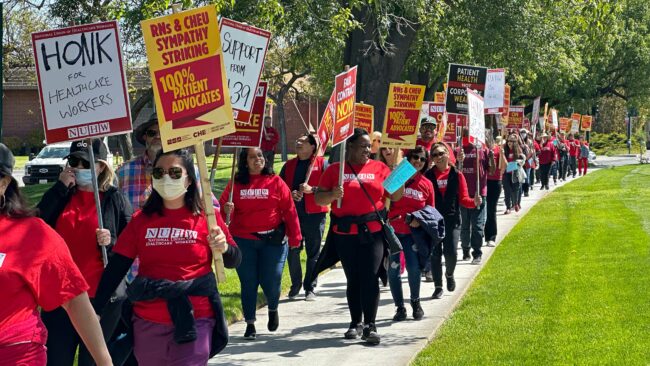 Simon, who is running to Congress, posted photos from the strike on her Twitter feed, writing, "These women and men are the healers who work tirelessly to care for our sick babies. The children of Oakland deserve the best care possible, and I stand with caregivers to "Keep Care in Oakland."