NUHW Members Confront Fountain Valley CEO
Fountain Valley Regional Medical CenterJune 25, 2019
NUHW members at Fountain Valley Regional Medical Center are gearing up to bargain their new contract. Over the last several weeks, members have been completing the bargaining survey, learning about the bargaining process, and meeting to identify their share priorities and concerns. Perhaps management is getting nervous — on May 29, FVRMC CEO Ken McFarland tried to prohibit members from holding meetings in the hospital cafeteria, which they had done without incident for the last three years.
Under federal law, employees have the right to representation by the union representative, and the union staff have access to public areas of the hospital including the cafeteria and also break rooms as outlined in the collective bargaining agreement.
On May 30, workers delivered a letter to McFarland, letting him know that any attempt to stop or eliminate these meetings will result in legal action, including unfair labor practice charges.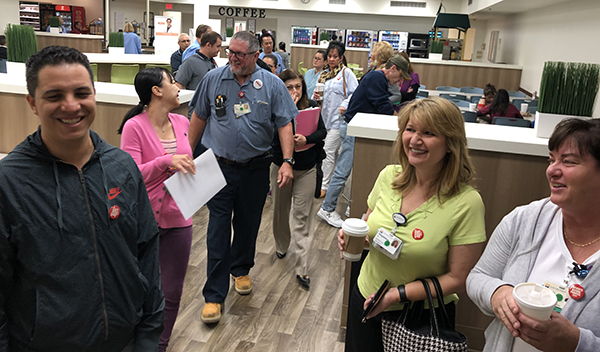 "Your attempt to shut down the voice of your employees who are meeting this week and the weeks ahead to discuss what issues they want to improve in their own working conditions and for those of the patients they work for," read the letter, "is not only shameful, but also a violation of federal labor laws and our union contract."