NUHW members commemorate California's re-opening at Medicare for All rally
NewsJune 16, 2021
As California officially reopened on June 15, NUHW members flocked to Sacramento for a rally calling on Gov. Gavin Newsom to learn the lessons of COVID-19 and take the lead in creating a single-payer healthcare system that provides equal care for all Californians.
More than 300 people were in attendance on the north steps of the State Capital Building for the first in-person event since the start of the pandemic held by Healthy California Now, a coalition of community, health care and labor organizations, including NUHW, advocating for a single-payer, Medicare for All healthcare system. The rally was covered by KCRA Channel 3 in Sacramento and Kaiser Health News, which is not affiliated with Kaiser Permanente.
"The pandemic should be a wakeup call to everyone that health care is a matter of life and death — not dollars and cents," NUHW President Sal Rosselli told participants during the rally. "More than 63,000 Californians have died from COVID-19. Black and Brown Californians have died of COVID-19 at more than twice the rate of other Californians… How many lives could have been saved if every Californian had access to health care and every Californian with healthcare could actually afford to see their doctor?"
Following the rally, participants stacked 19,000 petitions signed by Californians so far this year asking Gov. Newsom, who campaigned in support of single-payer healthcare, to lead the way on Medicare for All.
Healthy California Now is calling on Gov. Newsom to initiate discussions with the Biden Administration on securing waivers to use federal healthcare dollars already flowing into the state for a publicly-run single-payer healthcare system. Under the new system, health care would no longer be tied to employment and all Californians would be able to choose their own doctors and get the same standard of care.
"If we've learned anything from the pandemic, it's that we need Medicare for All in California," said labor icon Dolores Huerta, who participated in Healthy California Now's virtual rally on June 14. "This is the time to act. There is no time to waste."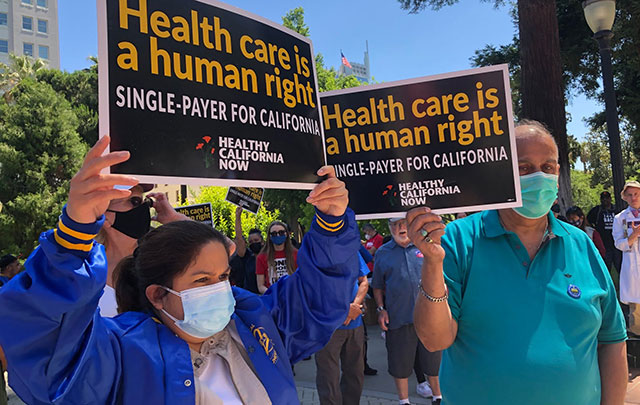 In addition to Huerta, Assembly Speaker Anthony Rendon announced his support for Healthy California Now's efforts to achieve a single-payer healthcare system in California. In a letter read during the rally by Rosselli, Rendon stated:
"I believe health care is a human right, and it's imperative that we take the steps necessary to provide all Californians with universal access to quality health care. I strongly support Healthy California Now's efforts to pass and enact single-payer healthcare in California. Seeking federal approval to use existing health care dollars as the foundation for a state-sponsored plan will be a crucial step toward successfully providing universal health care through a single-payer health system. I applaud Healthy California Now for their relentless and determined efforts to make this happen. And I am pleased to continue working with them to achieve this goal."
It still remains unclear the degree to which Gov. Newsom will press the Biden Administration for the waivers needed to achieve Medicare for All in California. Tam Ma, the governor's deputy legislative secretary, addressed participants during the rally, to inform them that Gov. Newsom has written to the Biden Administration regarding waivers and in support of legislation that would remove some potential hurdles for any state to transition to Medicare for All. "California has the structures and the will to supply health care for all," she said during the rally. "We just need federal support and waivers allowing us to move to universal health care."
Adopting a Medicare for All System in California would save as much as $375 billion over the first decade of implementation, according to a study presented last month to Gov. Newsom's Healthy California for All Commission. Medicare for All isn't just good policy, it's good politics. A poll conducted last month by Lake Research Partners found that 84 percent of Democratic voters support Medicare for All and swing voters would be five times more likely to vote no on the recall if Newsom takes the lead on Medicare for All.
Participants at the rally, who included Angela Chavez of Courage California, Diana Madoshi, of California Alliance of Retired Americans, Anand Singh, president of UniteHERE Local 2 and Dr. Paul Song, of California Physicians for a National Health Program, made it clear they expected the governor to take the initiative in leading discussions with the Biden Administration.
"We are tired of excuses," Song told rally participants. "The time is now for our governor to lead."