NUHW launches campaign to lift poverty wages
Fountain Valley Regional Medical CenterOctober 16, 2017
NUHW members at the University of Southern California are fighting to raise wages for workers whose jobs are subcontracted to Sodexo.
The campaign began with a video and a a series of infographics calling out USC President Max Nikias for using the multinational subcontracting firm to hold down workers' wages and deny them the benefits enjoyed by all other members of the university's "Trojan Family."
Workers at USC's Keck Medical Center and Norris Cancer Hospital have posed for pictures with "Naughty Nikias." These are being shared on social media, along with infographics that illustrate the economic disparities at USC.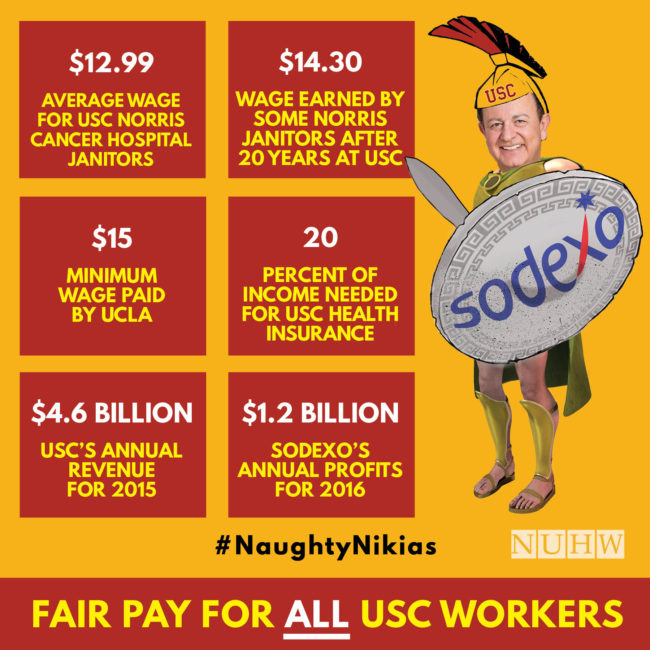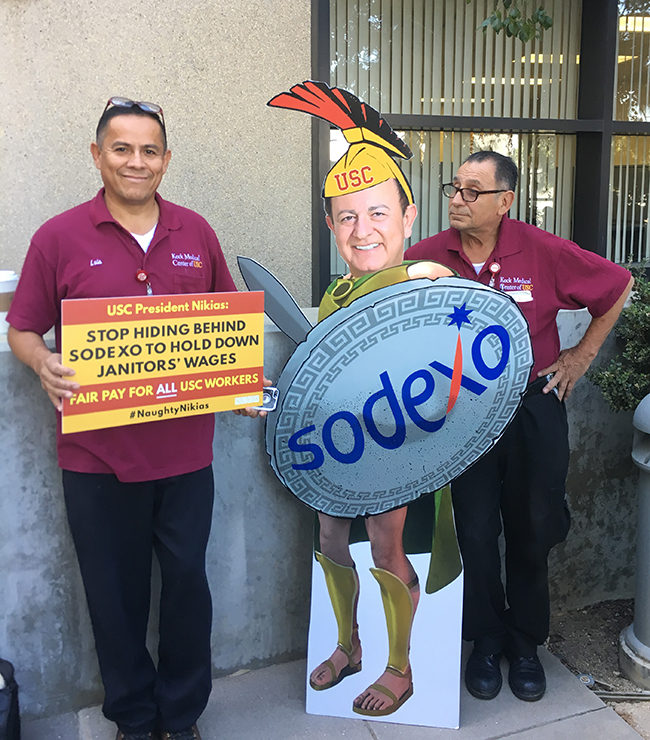 The campaign is part of a larger effort by Sodexo-employed NUHW members at five hospitals in Los Angeles and Orange counties to raise the low wages paid by Sodexo.
Workers at USC Keck Medical Center, USC Norris Cancer Hospital, Lakewood Regional Medical Center, Los Alamitos Medical Center, and Fountain Valley Regional Hospital are uniting to hold these hospitals accountable for holding down wages.
These five facilities outsource key divisions, such as housekeeping and food service, to Sodexo, which pays workers far less than they would make if they worked directly for the hospitals. Sodexo pay is so low that many workers qualify for food stamps and Medi-Cal. Sodexo's wages are far lower than their competitors — some workers still make the minimum wage even after working for the company for more than ten years.
Sodexo last year reported a $1.2 billion profit. But many of its employees at Fountain Valley who cook meals, greet patients and clean operating rooms make less than $11 per hour. Sodexo cleaning staff at USC Norris make on average $12.17 per hour. Workers doing the same job at a different USC hospital two blocks away are employed directly by the university start at nearly $15 per hour.