NUHW has strong presence at Labor Notes conference
NewsJune 27, 2022
NUHW had a strong contingent at the 2020 Labor Notes Conference, which brought together approximately 4,000 union workers and leaders from across the country for a weekend of panels, workshops, and social gatherings aimed at sharing knowledge and helping advance the rights of working people.
The stars of the conference were Amazon and Starbucks workers fresh off successful organizing drives against fierce opposition from two of the world's largest corporations.
"There was so much energy and excitement for what we can accomplish," said Denenea Conner, an NUHW member and Kaiser Permanente mental health clinician who attended the conference for the first time. "I'm hopeful that we can take the information and tools that were shared and put them into practice to create a better outcome for our colleagues."
Joining Conner at the conference from NUHW were Executive Board members Elizabeth White and Justin Evans as well as NUHW President Sal Rosselli and coordinator Tyler Kissinger. Rosselli and White, who works as a mental health clinician at Kaiser, participated in a panel discussion on improving access to mental health, and Kissinger helped teach a class on turning a single issue into a coordinated campaign.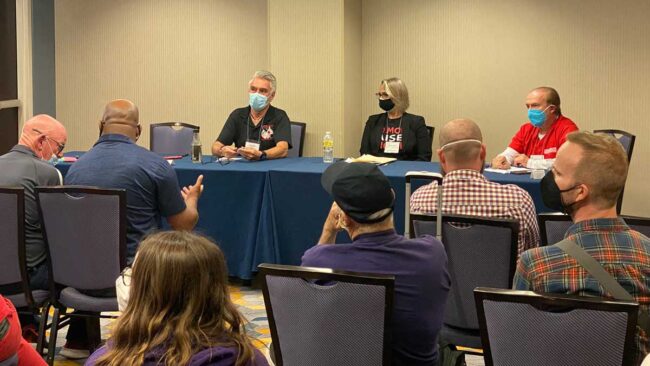 Evans, a warehouse worker at Fountain Valley Regional Hospital, served on a panel called "Action on the Shop Floor." He discussed how his colleagues fought back when the hospital laid off almost half the warehouse staff and tried to compensate by no longer having them take items out of cardboard boxes and put them into bins. Cardboard is a vector for mold and bugs, so when workers started sharing photos of cardboard piling up on hospital beds and hallways, the hospital quickly withdrew the layoffs.
When asked during the panel discussion about how shop workers can show solidarity with colleagues from other departments, Evans noted that at Fountain Valley, workers were ready to strike in order to help housekeepers and food service workers get a fair contract.
Evans said he learned a lot from others at the convention and also was happy to learn that he and his colleagues were already doing a lot of recommended tactics, such as bringing as many workers as possible to bargaining sessions.
"It makes you know that we're doing the right things," he said. "It was a great advantage for us to have "open bargaining" because the hospital could see how strong and determined we were to win a good contract."
Following the conference, Evans was excited to share what he learned with his coworkers.
"I told the warehouse guys that our story can help other people in their shop floor, and that our tactics can improve the life of a completely different person in a completely different industry," he said. "The things that we do don't just make a difference in our hospital; they make a difference nationally."