NUHW, CNA picket at St. Joseph Hospital, Eureka
NewsMay 18, 2015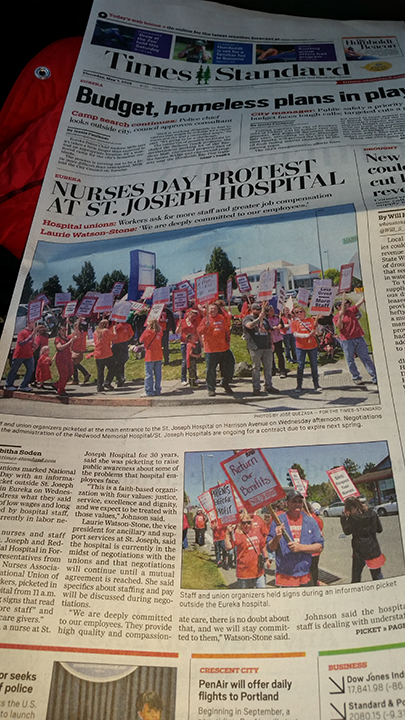 NUHW and CNA workers from St. Joseph Hospital in Eureka and Redwood Memorial Hospital in Fortuna picketed outside the Eureka facility May 6 to address low wages and long shifts faced by hospital staff.
Susan Johnson, a nurse at St. Joseph Hospital for 30 years, told the Eureka Times-Standard she was picketing to raise public awareness about some of the problems that hospital employees face.
"This is a faith-based organization with four values: justice, service, excellence and dignity, and we expect to be treated with those values," Johnson told the Times-Standard. Johnson said the hospital staff is dealing with understaffing, long hours, and low wages, all of which impact patient care and employee satisfaction.
"This hospital makes a lot of money and they should be able to pay people a living wage," Johnson said.
NUHW member Kellie Shaner, who works as a nurse's aide and a monitor technician, said there are days where she is bounced between the two positions and other times when she is responsible for up to 40 patients.
"The other day I was on a floor alone and one of the patients had an episode. It was caught in time, but it would have been easier with two people," Shaner told the Times-Standard. "We're getting worked to death and there's no relief in sight," Shaner said.
The picket  took place one week after Leapfrog Group, a national nonprofit hospital group, gave St. Joseph Hospital a "D" rating. Johnson pointed to the rating as an example of how patient care and employee treatment has suffered. She said employees initially tried to deal with the problems internally, but community members needed to be aware of what is going on.
To see press coverage of the picket, see the Eureka Times-Standard, Lost Coast Outpost (includes video), and KIEM TV (includes video).