Mental health clinicians take fight to Kaiser
NewsJune 27, 2022
With Kaiser Permanente showing no urgency to settle a contract after nearly a full year of bargaining, mental health clinicians in Northern California are confronting Kaiser officials while preparing for a potential open-ended strike.
On June 17, guests at the Four Seasons Hotel in San Francisco, where Kaiser's Board of Directors was meeting, woke up to find leaflets by their door informing them of Kaiser's failure to provide timely behavioral health care despite its $8.1 billion net profit last year.
Later that day, clinicians Alexis Petrakis, Jennifer Browning, and Misha Gutkin intercepted Kaiser CEO Greg Adams as he was walking out of the hotel, and got him to agree to speak to them in a lounge area. When Adams chalked up Kaiser's mental health access issues to a shortage of clinicians, the clinicians responded strongly, informing him that Kaiser's turnover rate has doubled over the past year and that people are leaving because workloads are not manageable.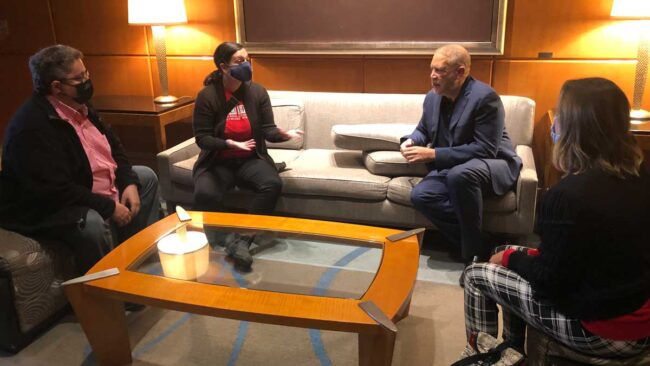 Adams said that he'd take the clinicians' input to the people representing Kaiser at the bargaining table, and the clinicians reiterated that the NUHW bargaining team has crafted solutions to the problems Adams is acknowledging exists. The clinicians told Adams that these issues should be addressed at bargaining, which up until now Kaiser has refused to do.
If Kaiser officials thought that clinicians were done confronting them over stalled contract talks, they were mistaken.
One week later, clinicians returned to San Francisco to commemorate Pride by confronting Kaiser officials and handing out 1,000 leaflets calling on Kaiser to address the challenges LGBTQIA+ patients face in getting behavioral health care.
Kaiser clinicians Shay Loftus, Brandi Plumley, Sarah Soroken, Ania Foster, and Kim Hollingsworth Horner (who traveled all the way from Fresno) handed out leaflets to fellow Kaiser employees and Kaiser officials at Kaiser's event at the Hyatt Regency for people who planned to march under Kaiser's banner in Sunday's Pride Parade.
When security forced several of them to leave the event, they started handing out leaflets at the entrance to Kaiser's second-floor event space and the entrance of the hotel.
This did not please Kaiser officials.
One Kaiser representative urged people not to take the leaflet, saying "it's bad publicity for Kaiser." When that didn't work, she actually tried to confiscate people's leaflets, telling them, "Don't read that, give it to me." Finally, she relented, urging people to read the leaflet before they went inside to Kaiser's event space.
Hotel security was called to order the clinicians out of the Hyatt, only to find out that NUHW had a table reserved at the Hyatt's Grand Ballroom for the annual Alice B. Toklas LGBTQ Pride Breakfast. Instead of getting kicked out, the clinicians were treated to breakfast with remarks from House Speaker Nancy Pelosi, New Jersey Senator Cory Booker, and SB 221 author State Senator Scott Wiener. There were approximately 500 people at breakfast, and on every chair sat one of our leaflets.
"It felt great to know that we were standing up for our patients and to see how receptive our fellow Kaiser employees were to know that we as clinicians aren't going to be silent about the struggles they face," said Brandi Plumley, a Kaiser therapist in Richmond. "We sent the right message at the Kaiser Pride event: We're supporting our patients and we're not going to let Kaiser executives breathe easy while they're refusing to settle a fair contract that will help clinicians and patients."