Mental health clinicians launch campaign to improve care at Kaiser Permanente
Kaiser Mental HealthOctober 30, 2018
We launched a social media campaign this month alerting Californians that Kaiser Permanente is still making patients wait far too long for follow-up mental health care appointments.
The campaign features images of Kaiser mental health clinicians with messages about how Kaiser has refused to provide prompt mental health treatment in violation of state and federal law despite having the financial resources to achieve true mental health parity.
To date, our images have been shared several thousand times on Facebook, and we have collected dozens of stories from Kaiser patients about untimely care on our website kaiserdontdeny.org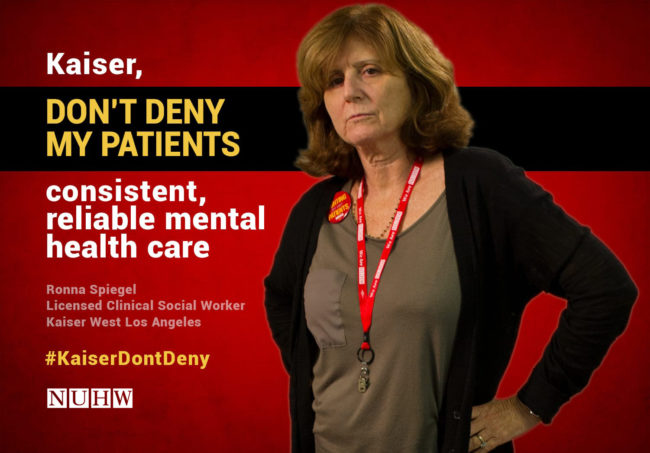 The social media campaign is the first in a series of actions that could lead to a strike later this year by more than 3,000 clinicians represented by NUHW. We have made proposals during contract bargaining to improve patient access, but Kaiser is refusing to consider them as part of contract negotiations.
Kaiser's stance should not come as a surprise. Kaiser was fined $4 million in 2013 for violating California's Mental Health Parity law. Last year, the state found that Kaiser patients with serious mental health conditions were still forced to wait weeks or even months to see their therapists or receive treatment.
"Kaiser still has a long way to go to achieve mental health parity," said Krisy Elrod, a psychiatric social worker at Kaiser Santa Monica. "My patients often have to wait four-to-six weeks for return appointments. These include people with serious cases of depression, anxiety or bi-polar disorder, whose health depends on frequent, consistent care."
Meanwhile Kaiser posted a $3.9 billion profit last year, and its $28 billion cash reserve is more than double the state of California's reserve fund.
"Kaiser has the means to provide timely, consistent access to mental health care. It only lacks the will to do it," NUHW President Sal Rosselli said. "Our members have gone on strike before to stand up for their patients, and we will not hesitate to do it again."