Kindred Hospital of Westminster Caregivers Join NUHW
Kindred Hospital Bay AreaDecember 6, 2013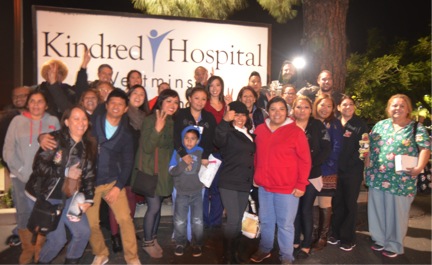 I'm proud to report that 180 of my co-workers and I just voted to join NUHW!
On Wednesday night, the NLRB announced the final results of our election: 129 votes for NUHW and 32 for "No Union."
We work at Kindred Hospital Westminster in Orange County — a 109-bed acute-care hospital that cares for patients with complex medical conditions requiring extended hospitals stays. We're Respiratory Care Practitioners, LVNs, Certified Nursing Assistants, EVS, Food Service Workers, Unit Secretaries, and X-Ray Techs.
I've worked at our hospital for 5 years as an Respiratory Care Practitioner. My coworkers and I didn't get into healthcare to get rich. We do our jobs to impact lives for the better, to help patients and families through difficult times.
None of us entered this field to do a mediocre job, but unfortunately, with the time and resources we're given, that's often the only job we can do. With Kindred, profits usually come before patients, and that's unacceptable. As NUHW members, we hope to fulfill our mission as healthcare workers – to give the best possible care to our patients.
We're proud to join NUHW and look forward to working with healthcare workers across the state – including all of the caregivers at Kindred Hospital in San Leandro.
Sincerely,
Rodney Nelson, RCP