Kaiser workers release Racial Justice and Equity Survey
NewsNovember 29, 2021
Last year, NUHW members at Kaiser Permanente facilities across California founded the NUHW Racial Justice and Equity Committee. Now our member-led committee has released the report from its first comprehensive survey of NUHW members to gauge how systemic racism and marginalization within Kaiser impacts workers and patients.
Read the report here.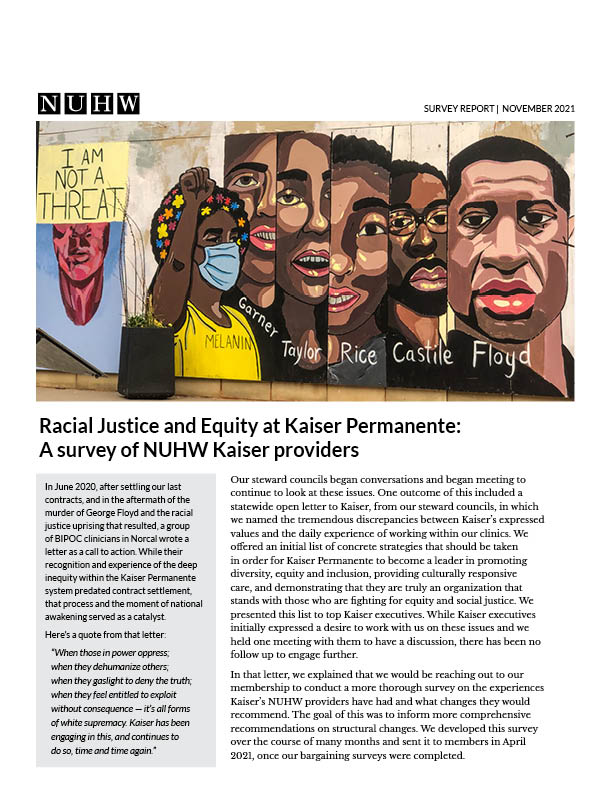 More than 1,500 NUHW members in California participated in the survey, of whom slightly more than half identified as BIPOC (Black, Indigenous and People of Color, which refers to all people who identify as other than white). The findings are alarming, and should be a call to action for all of us to demand structural change at Kaiser. Among the findings:
62 percent of BIPOC providers reported experiencing racism in the course of their work at Kaiser. 

47 percent of all respondents reported witnessing racism toward their colleagues and 37 percent reported witnessing racism toward their patients.

41 percent of all respondents reported having patients who struggled to access or maintain treatment because they could not be seen by a

culturally-competent

provider.

28 percent of all respondents reported having had patients who could not access treatment in their primary language.
Despite clear documentation that Kaiser is failing communities of color, Kaiser management in contract negotiations this year has rejected our proposals to address structural racism faced by workers and patients, including proposals to: 
Increase the bilingual pay differential, expand the qualifying languages, and implement additional

mechanisms

to help Kaiser provide culturally competent care.

 

Include input from local teams and Local Professional Practice Committees to help Kaiser recruiters identify strategies for better recruiting a broader diversity of candidates.

Develop an exit interview process to determine how structural racism impacts people's decision to leave Kaiser.

Allow clinicians to reduce hours, switch to flexible schedules, and ensure a more sustainable workload and caseload.

Add Martin Luther King, Jr. Day and Juneteenth as paid holidays.