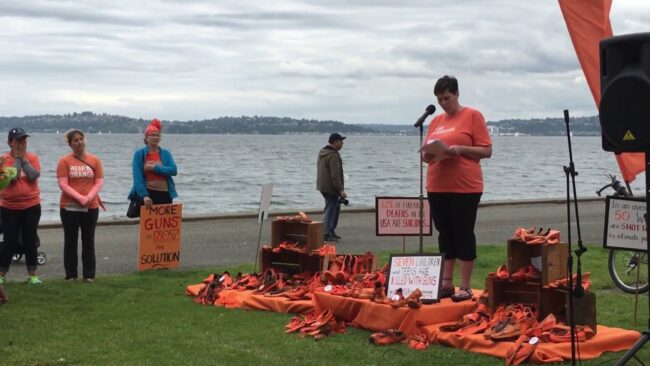 Kaiser mental health workers continue advocating for patients
March 1st, 2019
While contract negotiations with Kaiser Permanente inch forward, NUHW members this month the fight directly to Kaiser executives.
On Feb. 2, Kaiser mental health clinicians leafleted a speech to retired doctors by The Permanente Medical Group CEO Richard Isaacs during a luncheon at an Oakland country club. The clinicians talked to doctors while handing out leaflets spelling out how chronic understaffing forces patients to wait weeks or months for treatment appointments — sometimes with tragic results. Here is one doctor's report of what happened after we left.
"The fliers were a focus of a lot of the conversations around the tables. Dr. Isaacs was very upset and made a point of saying that this was a private event and NUHW should have been kept out. He said the flyers were misleading at best and politically motivated and false at worst. Two separate doctors rose to counter him saying that they personally had experiences that validated the flyers' message. One stated that they felt everything on the flyer was completely true. Isaacs was furious."
As we confront Kaiser leaders with the truth about their mental health services, we are also highlighting patient stories at KaiserDontDeny.org and on our Twitter, Instagram and Facebook pages.
Please watch this video about Brennen Smith, a college student dealing with depression and drug addiction, who was forced to wait 29 days for a Kaiser mental health appointment. He died by suicide four days before his appointment.
We are also receiving more patient stories and referring patients with urgent needs to Kaiser. We recently referred Robert "Priest" Morgan, a Santa Rosa resident who during the 2017 Napa/Sonoma Country fires worked with firefighters to save homes in the mobile home park adjacent to the Kaiser hospital. You can read more about his heroics – and his ensuing bout with PTSD – in this San Francisco Chronicle story.
When smoke from last year's Camp Fire in Paradise wafted into Santa Rosa, Morgan's PTSD left him no option but to leave California and move in with a relative in Wisconsin. He asked Kaiser to reimburse his therapy in Wisconsin, but got the run-around – until Kaiser got our referral. Here is an email he sent us recently:
"And the Big Surprise was a call from Kaiser Member Services investigating your Union Filing on my behalf.  I've never heard of them reacting so quickly to a Complaint – they really must Respect and Fear your Union.  I was on the phone for over an hour, and we covered everything. They are still gathering information but plan on hearing these matters and making a decision by the end of the month!  I can't believe how Fast they are responding – it's Amazing and unheard of!"