Home Health Caregivers Join NUHW
California Pacific Medical CenterNovember 26, 2013
On behalf of NUHW's Executive Board, I'd like to welcome our newest members at Sutter Health's Visiting Nurses Association and Hospice of Santa Cruz County.
Last week, a group of 18 Physical Therapists, Occupational Therapists, Speech Therapists and Medical Social Workers voted by a margin of 15 to 0 to join NUHW in an NLRB election. Their victory came despite Sutter's aggressive campaign led by a high-priced anti-union consultant.
Here's what Gaye Kihornay, a Physical Therapist, said about the election:
"For a number of years, our homecare RNs have been unionized. We therapists and social workers were not given the same working conditions as our RNs because management kept telling us, 'Sorry, you aren't union.' We always thought we were too small of a group, just 18 people, for any union to care about us. We now know this is not true. The NUHW rep was so responsive and met with us a number of times to guide us toward unionization. We were even amazed when Sal Rosselli took up time on a Saturday to come speak to us. We truly feel we are now represented because of NUHW. NUHW is the right union for us and we look forward to finally being able to improve our working conditions."
Finally, one additional piece of news:
Last week, the Los Angeles Times published an article about our ongoing campaign to hold Kaiser accountable. The article details a second government investigation triggered by our union after we learned that Kaiser secretly hired away a top state investigator who was probing Kaiser's mental health services in response to our earlier complaint.
Apparently, Kaiser recruited the state investigator to its side to try to submarine the government inquiry – and then reportedly used her "insider" knowledge to battle the $4 million fine and "Cease and Desist Order" that we won against Kaiser in June.
The government launched its first investigation after NUHW blew the whistle on Kaiser for understaffing its mental health clinics and depriving our patients of needed care. Here's a link to the full article in the Los Angeles Times.
Along with my colleagues on NUHW's Executive Board, I hope you and your families have a great Thanksgiving!
Clem Papazian, LCSW, Kaiser Oakland Medical Center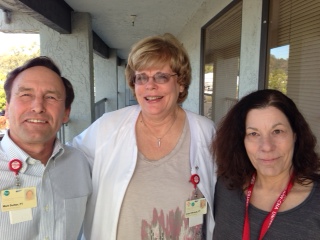 Santa Cruz VNA Therapists After the Vote